When Work Hurts: March 1 Newsletter
Newsletter / Produced by The High Calling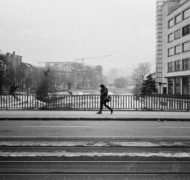 There's a reason why they call work "the daily grind." A lot of times we find ourselves dealing with conflict, struggle, and failure there.
We'd like to remind you of our free devotional, Working Through Failure. Read it for a helpful, Biblical understanding of how to deal with failure. And we also know that today you may well be part of an Ash Wednesday service in your faith community.
On Ash Wednesday we confess that we have failed: but we are also reminded that Jesus never fails us, even when work—and life—hurts. Take courage. Have hope. And read on.
Ash Wednesday Do-Over
From The High Calling
I had great plans for Lent. Then I returned home and life happened. But Jesus didn't fail me. Read more
The Failure That Results from Guarding Against Failure
From The High Calling
It took the really huge failures in my life to plunge me deep enough into failure that I learned that the only way to deal with failure is prayer. Read more
When Hope Isn't Foolish
From the Theology of Work Project
Our work takes up the better part of our waking hours most days. It can be drudgery and toil. But it can also be a tremendous laboratory for hope and courage. Here's how. Read more