Work for God: The Hospitality of Many Small Acts
Blog / Produced by The High Calling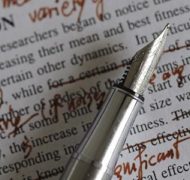 As I proofread a comics page, my internal "uh-oh" sensor pinged.
The strip didn't contain any words we won't print in the newspaper or depict anything gross. It didn't clearly violate "the breakfast test": Does this clash with eggs and bacon? But there was a trace of scatological humor. I showed my nearest colleague. He agreed the problem wasn't clear, but I'd better consult a higher power.
I took the page to the deputy managing editor, our decider on all things comics-related. He took one look. "Pull it."
Make the Rough Places Smooth
I make my living as a copy editor for a daily newspaper. When people ask what that means, I usually say we fix mistakes and write headlines. Sometimes I say it more poetically: we vanquish error, make the rough places smooth, set small things right.
It's extremely detail-oriented work that begins with knowing the rules, consulting and applying our sacred texts: the Associated Press stylebook, Webster's New World College Dictionary, our own in-house stylebook. In the course of a day, I will correct spelling, fix subject-verb agreement, eliminate dangling modifiers, improve punctuation, check facts, ask for clarification, suggest a better word or a way to revise a confusing sentence, write headlines that convey the content and tone of an article, mark a proof where a frame is missing around a photo or a one-syllable word has broken at the end of a line, and dozens of other things in the quiet work of shepherding stories into print (or pixels) for our readers.
The work is mostly invisible. Our names don't appear in the paper, but our touch is on every page. Readers notice and comment only when we miss something.
Niggles and Nudges
I've done this work for eleven years, but not consecutively. The first time around, I was a letter-of-the-law editor—a stickler for the rules and quick to share my views, even when I hadn't been asked. (Being a know-it-all is an occupational hazard.) Then I was a reporter for three years and spent a lot of time listening. When I returned to the copy desk seven years ago, I became a spirit-of-the-law editor—a believer in rules of the ear as well as the book, and slower to speak.
So much of good editing is listening to the words and heeding the uh-oh sensor. A friend calls it "niggles and nudges," the little Don't and Do that can govern behavior and action if we are attuned and obedient to them.
Recently I felt it while proofreading a Travel page. A sentence didn't make sense. Changing a comma to a semicolon would help, but there were two places I could do that, and the choice would affect the meaning. I opened the story's file in the computer, found the original version, and saw a word had been deleted from the sentence at some point.
Sometimes the nudge is skepticism. A story noted that 1,000 Arkansas highways are designated as wildflower routes. Wait: Does Arkansas have a thousand highways? A quick Google search provided the missing detail: 1,000 miles of.
Sometimes it's not a matter of correcting error but improving precision. A writer called the evening sky "a pastel shade of indigo." Hmm. Can indigo be pastel? Doesn't it imply darkness, saturation? I asked the writer whether he meant periwinkle. "Great revision," he replied. And the sentence's hue of truth was increased by a shade.
God's Uh-oh Sensor
I like the work and the people I work with. They tell me I am appreciated and let me know when I can do better—inviting me to take another crack at a headline that falls short, for example. But sometimes I have the niggling sense that I'm not living up to my own standards.
In other words, if I'm not working for God, my uh-oh sensor goes off. It reminds me that my work is always in service to others.
It nudges me to balance my editing between stories I jump at and others that are less appealing but no less important. It fidgets when curiosity takes over and looking something up online leads down the rabbit hole. It whispers "Shh" when I'm getting worked up over nothing. It prompts me to contact a writer about substantive changes instead of shipping the story along without that courtesy (a courtesy I always appreciate when I'm the one doing the writing).
The uh-oh sensor is right up there with the red pen as a tool I can't live without. Ultimately, it guides me in seeing this work as many small acts of hospitality: to my coworkers, including my managers, whose expectations I always want to meet and exceed; to the strangers at the door, also known as our readers; and to the stewardship of language itself, in service to the power of the written word.
That reminds me of a how-we-met story I edited about a couple celebrating their fiftieth anniversary. She said he was too young, too short, and too redheaded. But when he went off to basic training, he won her heart by writing to her every day.
______________________________
Work for God
Whatever work you do, it matters to God. And you can glorify God through your work. God doesn't give more points or ascribe more value to pastoral or missionary or non-profit work. God looks at you and the work you do in your cubicle or classroom or kitchen or conference call, and all of it matters to him. It's not just ministers who work for God. No matter what type of work we do, let's do it to the glory of God. This series, Work for God, reminds us to do all of our work as if we were working for God, because we are.