Created and Called: Women in the Workplace (Devotional)
Devotional / Produced by TOW Project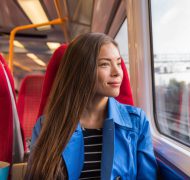 This 6-day study starts in Genesis with God's original call to work, then explores biblical examples of working women. Drawing insight from Scripture, this plan is designed to encourage and inspire women who work.
You can find this devotional on the YouVersion Bible App (download the app here), or read the Women in the Workplace devotional on Bible.com
Excerpt:
Because both the first woman and the first man disobeyed God's earliest commandment, work became more difficult. Adam finds that his original work (gardening) is much harder, while Eve's greatest difficulty is childbearing.
Nonetheless, God helps Eve with the work of parenting. Eve says about her firstborn, "I have produced a man with the help of the Lord." It is only through God's help that we can do any work, whether it's parenting, ministry, or work in the marketplace. In Philippians 4, Paul writes to both men and women about their work together building the church in Philippi. He encourages these men and women, telling them that God will help them and meet all their needs.
Read Created and Called: Women in the Workplace on Bible.com
---
---