Discussion Guide for The Gift of Ability for Blue Collar Workers
Small Group Study / Produced by partner of TOW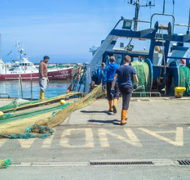 These discussion questions relate to Kent Duncan's sermon: The Gift of Ability for Blue Collar Workers. Learn more about his integrated outreach to blue collar workers by reading his thesis: Facilitating Marketplace Ministry in a Blue-Collar Context.
Tell us something about yourself by answering one of the following questions:
What is the most creative part of your work?
When you were first hired, what was your biggest challenge?
When someone new comes on the job what is a key thing that you have to teach them?
Tell of a time when you have added wisdom to your tasks at work.
Read Exodus 31:1-11. Filled with the Spirit, Bezalel and Oholiab shaped and assembled raw materials to construct a tabernacle. Bible Scholars suggest that their labor echoes God's labor in forming the world (Genesis 1). Assuming that's so, can you see your work displaying that same connection? In what ways?
According to Exodus 31:1-6, God chose Bezalel and filled him with His Spirit purposefully. How would you describe God's purpose in Bezalel's call? What conclusions might you draw about God's purpose in calling you to the work you do?
R. Paul Stevens suggests we're called "to Someone before we're called to do something." How does your relationship with Christ precede and shape your calling as a worker?
The Scriptures consistently reveal God's ability and readiness to supply generously. In what ways is your work marked by God's generosity in equipping? Are you able to make God's abundance a consistent part of your work experience? If so, what evidence of this God-confidence can be seen?
"[Spiritual] gifts in the new creation," writes Terry Cross, "do not only serve a sacred, invisible really, but also serve the physical needs of humanity." In what ways can you see God's gifts serving His purposes through you on the job?
God's purposeful call and generous equipping connect our work to His cosmic plan as He gifts and places us to continue His creative activity in the world. In what ways do you see your work connected with God's? In what ways do you see your work connected to other people?
What difference does a sense of God's calling make when you consider your work as rooted in His call, blessed by His abundance, and connected to His plan?
In what ways might you view your work differently this week in light of these Scriptures?
---
---