Blue Collar Work
Academic Paper / Produced by partner of TOW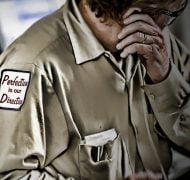 ABSTRACT
Contemporary blue-collar employees often fail to appreciate the biblical significance of ordinary human labor. Consequently, they perceive work as a necessary evil while frustration and alienation characterize time spent on the job.
This research utilized data from the Discipleship Dynamics Assessment to compare the attitudes of blue-collar workers (N=31) to those of a paired sample of white- collar workers. Significant differences were observed on thirteen outcomes associated with vocation and sense of calling indicating that, compared to white-collar workers, blue-collar workers have a significantly lower sense of divine purpose, calling, and giftedness in relation to their work. Furthermore, they consistently see themselves as less connected to their workplaces strategically and relationally than do white-collar workers.
To address this discrepancy, a sermon series, discussion materials, and other work-related ministry resources were developed for use at Jefferson Assembly of God in Meriden, Kansas. Thirty-one blue-collar employees participated in a four-week process designed to challenge work-related misconceptions through the presentation of a biblical theology of work. The series concluded with a commissioning service created to acknowledge and celebrate God's Kingdom-advancing purposes always present in all labor, including ordinary labor.
As a result, workers reported a new understanding of their labor as God-ordained, already significant in the advance of Christ's kingdom today, and made eternally valuable when refined and renewed through Christ's redeeming work.