Kids and Chores (Devotional)
Devotional / Produced by TOW Project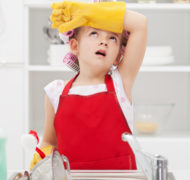 Getting kids to do chores is enough to test any parent's faith. If you're fighting with your child over mess, then this plan is for both of you. Each day starts with a kid-friendly story of a parent and child chore negotiation. Read it with your son or daughter to learn biblical ways to approach the subject of chores together.
You can find this devotional on the YouVersion Bible App (download the app here), or read the Kids and Chores devotional on Bible.com
Excerpt:
"This is my house too!" Alaysha yelled over the vacuum. "Why do I have to work?"
What are chores? Chores are things that need to get done in order for family life to happen. Chores around food make sure everyone can eat. Chores around cleaning make sure everyone has a space to work and play. Chores lay the foundation for everything else you want to do in your home.
For all these reasons, the chores of your household should be a shared responsibility. Joshua knew this when he said, "As for me and my household, we will serve the Lord." For Joshua it wasn't a question whether his family would work together, or each decide separately who they would serve. The work that supports your family takes your whole family working together.
Read Kids and Chores on Bible.com
---
---