Sibling Rivalry (Devotional)
Devotional / Produced by TOW Project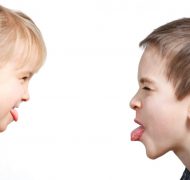 "Don't fight with your brother!" "Don't fight with your sister!" Sibling rivalry is as old as the Bible. Thankfully, the Bible can also teach siblings how to work together. Parents and kids, read this plan together, or listen in the car on the way to school. You'll gain perspective from the ancient story of Abraham and Lot, and from modern siblings just like you.
You can find this devotional on the YouVersion Bible App (download the app here), or read the Sibling Rivalry devotional on Bible.com
Excerpt:
"It's mine!" Hannah screamed, grabbing the brush out of Esther's hand. Esther reached for it, but Hannah hid it behind her back. Esther leaped at Hannah, tackling her to the ground. Their mom walked in just at that moment.
"Esther, go to your room."
"It wasn't my fault!" Esther protested...
One of the Bible's heroes, Abraham, had a younger family member who gave him trouble. Lot tagged along with Abraham. That was okay most of the time. But Abraham and Lot had to separate when they started fighting over stuff. So Abraham let Lot choose where he wanted to be, and then went in the other direction. To Abraham, it was more important to end the fight than to get exactly what he wanted.
Read Sibling Rivalry on Bible.com