How to Make Friends at School (Devotional)
Devotional / Produced by TOW Project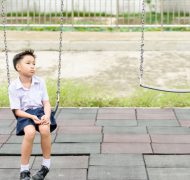 For some kids, making friends is hard. A child might not know how to start a conversation, or how to join a group at play, or how to maintain friendships. Thankfully, the Bible is a friendship how-to. In this three-day plan you'll meet Jose, a boy who's feeling lonely at school. See how the Bible helps Jose learn how to make and keep new friends.
You can find this devotional on the YouVersion Bible App (download the app here), or read the How to Make Friends at School devotional on Bible.com
Excerpt:
"Owwwweeee!" Carl yelled as the turtle bit him. He scowled at Jose. "Stop laughing, jerk!"
Jose put his hand over his mouth. Carl stared at him with eyes like lasers.
"I'm sorry," Jose said. "Are you okay?"
"Yeah." Carl said. He wiped his nose. After a minute he said, "That was pretty cool, right?"
"Totally cool!" said Jose.
Being a friend means caring about what the other person might be feeling. This is called empathy. When you see someone hurt or embarrassed, do you laugh? Or do you show concern and try to help? If your first response isn't that of a real friend as described in Proverbs 18:24, then you can practice your empathy.
Read How to Make Friends at School on Bible.com
---
---