Servant Leadership (Devotional)
Devotional / Produced by TOW Project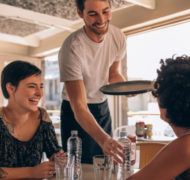 What does servant leadership look like at work? This 5-day devotional includes real-life examples from servant leaders at work, as well as reflection questions, scripture and prayer to help you improve your leadership.
You can find this devotional on the YouVersion Bible App (download the app here), or read the Servant Leadership devotional on Bible.com
Excerpt:
In the book of Mark, chapter 10, we see James and John asking Jesus to share in his glory by sitting at his right and left hand. In such positions, they would receive both honor and exceptional authority. Jesus seized this teachable moment to reveal something radical about his style of leadership. He explained that Gentile leaders "lord it over their people" and "flaunt their authority." But followers of Jesus must walk a different path...
Servant leadership is as countercultural today as it was in the time of Jesus. Yet when we are in charge of people, we are called to be their servant. We must treat others with respect, care for their human needs and seek what is best for them, even as we seek the best for the organization in which we are a leader. Following Jesus's leadership is not easy, but it is our calling as Christians who seek to obey and imitate Jesus.
Read Servant Leadership on Bible.com
---
---