Jesus' Love At Work (Devotional)
Devotional / Produced by partner of TOW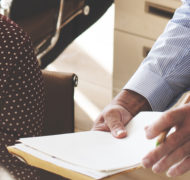 This plan provides simple steps you can take to be more loving to your coworkers that will transform those relationships and increase both joy and productivity at work.
You can find this devotional on the YouVersion Bible App (download the app here), or read the Jesus' Love at Work devotional on Bible.com
Excerpt:
We hear what love is like at weddings, but the qualities in 1 Corinthians 13 are meant to apply much more broadly to all relationships – including, and not least of all, to our relationships at work. Here are some ways these verses apply in a workplace context.
Love is not self-seeking, does not envy or boast, and is not proud. It's not about you. It's not about your success or making yourself look good. It's not about your personal agenda. Loving your coworkers means that you put their interests first, serve them and help them succeed.
Love is kind and patient. It's a lot easier to work with people when you treat them with kindness, and respond with patience and grace. You can demonstrate love with a smile, a kind word, encouragement when mistakes occur and a friendly tone in all circumstances.
Love keeps no record of wrongs. We all fall short. Love means you forgive your coworkers as you have been forgiven and want to be forgiven – over and over again.
Love rejoices with the truth, always protects, trusts, hopes, and perseveres. Gossip and self-serving agendas destroy relationships, but truth promotes growth and teamwork among coworkers. You can support the growth of others by providing honest, candid feedback and encouragement.
Read Jesus' Love at Work on Bible.com
This plan was written by Workmatters in partnership with The Theology of Work Project. Learn more about Workmatters at www.workmatters.org
---
---