Joseph Relieves the Poverty of Egypt's People (Genesis 47:13-26)
Bible Commentary / Produced by TOW Project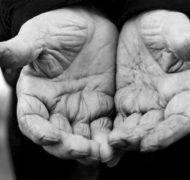 After the people ran out of money, Joseph allowed them to barter their livestock for food. This plan lasted for one year during which Joseph collected horses, sheep, goats, cattle, and donkeys (Gen. 47:15-17). He would have had to determine the value of these animals and establish an equitable system for exchange. When food is scarce, people are especially concerned for the survival of themselves and their loved ones. Providing access to points of food distribution and treating people even-handedly become acutely important administrative matters.
When all of the livestock had been traded, people willingly sold themselves into slavery to Pharaoh and sold him the ownership of their lands as well (Gen. 47:18-21). From the perspective of leadership, this must have been awful to witness. Joseph, however, allowed the people to sell their land and to enter into servitude, but he did not take advantage of them in their powerlessness. Joseph would have had to see that these properties were valued correctly in exchange for seed for planting (Gen. 47:23). He enacted an enduring law that people return 20 percent of the harvest to Pharaoh. This entailed creating a system to monitor and enforce the people's compliance with the law and establishing a department dedicated to managing the revenue. In all of this, Joseph exempted the priestly families from selling their land because Pharaoh supplied them with a fixed allotment of food to meet their needs adequately (Gen. 47:22, 26). Handling this special population would have entailed having a smaller, distinct system of distribution that was tailored for them.
Poverty and its consequences are economic realities. Our first duty is to help eliminate them, but we cannot expect complete success until God's kingdom is fulfilled. Believers may not have the power to eliminate the circumstances that require people to make hard choices, but we can find ways to support people as they—or perhaps we ourselves—cope. Choosing the lesser of two evils may be necessary work and can be emotionally devastating. In our work, we may experience tension arising from feeling empathy for the needy, yet bearing responsibility to do what is good for the people and organizations we work for. Joseph experienced God's guidance in these difficult tasks, and we also have received God's promise that "I will never leave you or forsake you" (Heb. 13:5).
Happily, by applying his God-given skill and wisdom, Joseph successfully brought Egypt through the agricultural catastrophe. When the seven years of good harvests came, Joseph developed a stockpiling system to store the grain for use during the coming drought. When the seven years of drought arrived, "Joseph opened the storehouses" and provided enough food to bring the nation through the famine. His wise strategy and effective implementation of the plan even allowed Egypt to supply grain to the rest of the world during the famine (Gen. 41:57). In this case, God's fulfillment of his promise that Abraham's descendants would be a blessing to the world occurred not only for the benefit of foreign nations, but even through the industry of a foreign nation, Egypt.
In fact, God's blessing for the people of Israel came only after and through his blessing of foreigners. God did not raise up an Israelite in the land of Israel to provide for Israel's relief during the famine. Instead God enabled Joseph, working in and through the Egyptian government, to provide for the needs of the people of Israel (Gen. 47:11-12). Nonetheless, we shouldn't idealize Joseph. As an official in a sometimes repressive society, he became part of its power structure, and he personally imposed slavery on uncounted numbers of people (Gen. 47:21).
---
---