Competition and Work (Overview)
Article / Produced by TOW Project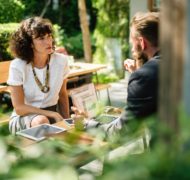 Competition is a fact of everyday work. But is it godly for Christians to compete? Or is it something we should try to avoid as much as possible? Should we use whatever influence we have to reduce or even eliminate competition?
We all know how hard it is to succeed in a competitive market, and how we're constantly tempted to seek our own advantage at others' expense – the dog-eat-dog model of competition. At the same time, we know competition also has beneficial effects. Phone and airline prices, for example, have been dramatically improved since competition was introduced in those sectors. A neighborhood with only one grocery store will tend to get worse service at higher prices than one with three grocery stores. The pressures of competition are both constructive (encouraging excellence, value creation and accountability to customers) and dangerous (creating temptations to cut corners, deceive customers or disrupt the work of competitors). Competition both destroys and creates wealth and jobs. Competition cultivates both fear and hope.
As we seek a Christian understanding of competition—or of anything else—the Great Commandment (Matthew 22: 37-39) to love God and neighbor is an incomparable touchstone. "Neighbor" includes everyone we interact with, even strangers (Luke 10:25-37) and enemies (Matthew 5:43-48). How about economic competitors? Because I am interacting with them (through my economic activity) they are my neighbors. Yet how can I love them if I am competing with them?
We propose that the solution is to love our competitors by practicing "competition as cooperation." In this way, we compete not only to serve ourselves, our households and our coworkers but also our customers and even our competitors themselves. This is not natural behavior in a fallen world, but it is possible if we have the right understanding of what "competition" really is, and the moral and spiritual formation necessary to look not only to our own interests, but also to the interests of others (Philippians 2:4).