Social Implications of Protecting Information Others Have No Right to Know
Article / Produced by TOW Project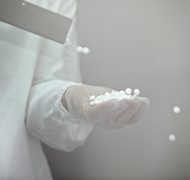 These discussions about the legitimacy of some deception when another party has no right to know may seem like a litany of excuses for questionable conduct. On a personal level, this may often be the case. But on a societal level, if there is no mechanism to protect people and organizations from having to reveal things others have no right to know, society may be harmed. Consider the following case reported to the Theology of Work Project:
I worked for a major pharmaceutical company, teaching a course intended to help managers and professionals investigate product quality complaints. So, if a product was discovered to have been manufactured and released although failing in fact to meet quality standards, there would be an investigation to uncover what had happened to cause that incident. In the course of doing the investigation, it is the professional thing to develop a list of possible causes which are then tested and eliminated by logic and further testing to determine which best fits the actual effect that has been reported. This is entirely comparable to the process a doctor goes through in diagnosing a mysterious set of symptoms; it would be malpractice to jump to premature conclusions without eliminating other reasonable and possible causes.

The company's legal division, however, advised managers never to keep a record of having gone through such a list of possible causes, since those records would be subject to subpoena. If someone suing the company for another reason were to gain access to a document with a long list of possible causes of product defects, it could give the false impression that the company knows of many flaws in its processes, but is doing nothing to correct them.[1]
In this situation, the pharmaceutical company has internal information used to improve quality control. The company believes—justifiably, perhaps—that if this information is revealed to plaintiffs in lawsuits who have no right to know, it is likely to be misunderstood and used to harm the company. Because the company lacks confidence that what it regards as its right to privacy will be respected by the judicial system, it changes its process to prevent recording information that is needed to improve quality control. As a result, the public is harmed because the quality of drugs is not as high as it might be otherwise. You don't have to agree with the pharmaceutical company's opinion about exactly who has the right to know what to see that getting the balance right is a question that has important social consequences. The right to privacy, including the right to use deception to conceal information from those who have no right to know it, is too complex to be handled by a blanket prohibition of deception. In a fallen world, at least, truth and deception are actually complex issues, even in the light of biblical principles.
---
---