God Created Woman as an Ezer Kind of Helper (Genesis 2:18)
Article / Produced by TOW Project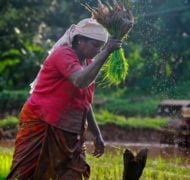 What Does Ezer Mean in The Bible?
Many opinions of working women have been shaped by the word in Genesis 2:18, "helper." This word therefore merits some greater attention. Was the woman to be merely a helpful assistant to the man? In our day we use the word "helper" in the sense of a plumber's assistant, handing the boss the right wrench for the job. But that is far from the meaning of the Hebrew word used to describe the first woman.
What Does The Name Ezer Mean in Hebrew?
God created the woman as an ezer. The word ezer occurs twenty-one times in the Old Testament. In two cases it refers to the first woman, Eve, in Genesis 2. Three times it refers to powerful nations Israel called on for help when besieged. In the sixteen remaining cases the word refers to God as our help. He is the one who comes alongside us in our helplessness. That's the meaning of ezer. Because God is not subordinate to his creatures, any idea that an ezer-helper is inferior is untenable. In his book Man and Woman: One in Christ, Philip Payne puts it this way: "The noun used here [ezer] throughout the Old Testament does not suggest 'helper' as in 'servant,' but help, savior, rescuer, protector as in 'God is our help.' In no other occurrence in the Old Testament does this refer to an inferior, but always to a superior or an equal...'help' expresses that the woman is a help/strength who rescues or saves man."
While many devout Christians see a woman's function as a subordinate to a man, the word ezer in the original Hebrew overturns that idea. The woman was not created to serve the man, but to serve with the man. Without the woman, the man was only half the story. She was not an afterthought or an optional adjunct to an independent, self-sufficient man. God said in Genesis 2:18 that without her, the man's condition was "not good." God's intention in creating the woman for the man was for the two to be partners in the many tasks involved in stewarding God's creation.
---
---