Thank God for Relationships (2 Corinthians 1:1–11)
Bible Commentary / Produced by TOW Project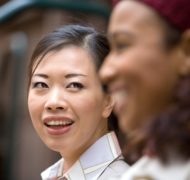 Second Corinthians begins with Paul's sincere thanks for the deep relationship he has with the Corinthians. They are so closely knit together that whatever happens to one, it is as if it happens to all. He writes, "If we are being afflicted, it is for your consolation and salvation" (2 Cor. 1:6). "As you share in our sufferings, so you also share in our consolation" (2 Cor. 1:7). Paul's description of the relationship sounds almost like a marriage. Given the strained relationship between Paul and the church that comes into view during the letter, this intimacy may be surprising. How could people with huge disagreements, disappointments, and even anger at each other say things such as, "Our hope for you is unshaken" (2 Cor. 1:7)?
The answer is that good relationships do not arise from mutual agreement but mutual respect in the pursuit of a common goal. This is a crucial point for our lives at work. We generally do not choose our co­workers, just as the Corinthians did not choose Paul to be their apostle and Paul did not choose those God would lead to faith. Our relationships at work are not based on mutual attraction but on the need to work to­gether to accomplish our common tasks. This is true whether our work is to plant churches, manufacture auto parts, process insurance or gov­ernment forms, teach at a university, or any other vocation. The more difficult things are, the more important good relationships become.
How do we build good relationships at work? In a sense, the rest of 2 Corinthians is an exploration of various means of building good work­ing relationships—transparency, integrity, accountability, generosity, and so on. We will discuss all of them in this context. But Paul makes it clear that we cannot achieve good relationships through skills and meth­ods alone. What we need above all is God's help. For this reason, praying for each other is the cornerstone of good relationships. "Join in helping us by prayers," Paul asks and then speaks of "the blessing granted to us through the prayers of many" (2 Cor. 1:11).
How deeply do we invest in relationships with the people we work among? The answer might be measured by the extent to which we pray for them. Do we care enough about them to pray for them? Do we pray for their specific needs and concerns? Do we bother to learn enough about their lives so that we can pray for them in concrete ways? Do we open our own lives enough so that others can pray for us? Do we ever ask the people in our workplaces whether we can pray for them or them for us? They may not share our faith, but people almost always appreciate an authentic offer to pray for them or a request to pray (or hope) for us.
---
---