Paul's Courage (Acts 20-28)
Bible Commentary / Produced by TOW Project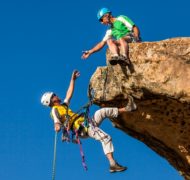 After the conflicts in Philippi and Ephesus, Paul receives threats of imprisonment (Acts 20:23, 21:11) and death (Acts 20:3, 23:12-14). These threats are not idle, for indeed two attempts are actually made on his life (Acts 21:3; 23:21). Paul is taken into custody by the Roman government (Acts 23:10) and a suit is brought against him (Acts 24:1-9), which, though false, ultimately leads to his execution. Given the episodes of conflict we have already explored, it is no surprise that following the ways of God's kingdom leads to conflict with the oppressive ways of the world.
Yet through it all, Paul maintains an extraordinary courage. He continues his work (preaching) despite the threats, and even dares to preach to his captors, both Jewish (Acts 23:1-10) and Roman (Acts 24:21-26; 26:32; 28:30-31). In the end, his courage proves decisive, not only for his work of preaching, but for saving the lives of hundreds of people in the midst of a shipwreck (Acts 27:22-23). His own words sum his attitude of courage as those around him shrink back in fear. "What are you doing, weeping and breaking my heart? For I am ready not only to be bound but even to die in Jerusalem for the name of the Lord Jesus" (Acts 21:13).
The point, however, is not that Paul is a man of extraordinary courage, but that the Holy Spirit gives each of us the courage we need to do our work. Paul credits the Holy Spirit for keeping him going in the face of such adversity (Acts 20:22; 21:4; 23:11). This is an encouragement to us today, because we also can depend on the Holy Spirit to give us the courage we may lack. The danger is not so much that courage may fail us in the moment of greatest terror, but that general worry will deter us from taking even the first step into following the ways of God's kingdom in our work. How often do we fail to defend a colleague, serve a customer, challenge a boss, or speak up about an issue, not because we are under actual pressure, but because we are afraid that if we do we might offend someone in authority? What if we adopted a position that before we will act contrary to God's ways at work, we at least have to receive an actual order to do so? Could we begin by counting on the Holy Spirit to sustain us at least that far?
---
---