Prayer, Peace, and Order Are Needed at Work as in Church (1 Timothy 2:1–15)
Bible Commentary / Produced by TOW Project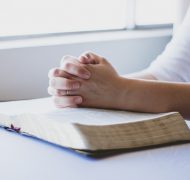 Paul begins this chapter by urging that "supplications, prayers, in­tercessions, and thanksgivings be made for everyone, for kings and all who are in high positions" (1 Tim. 2:1–2). The aim of this prayer is that Christians "may lead a quiet and peaceable life in all godliness and dig­nity" (1 Tim. 2:2). Presumably, these first-century rulers had the power to make life difficult and disruptive for Christians. So Paul urges Chris­tians to pray for their civic rulers. Prayer, peace, and order are Christians' first instruments of engagement with the secular world.
Again we see that Paul's instructions are grounded in the oneness of God, the singularity of Christ as mediator, Christ's universal ransom, and God's universal desire for all to be saved (1 Tim. 2: 3–7). Christ is the Lord of creation and the Savior of the world. His realm includes every workplace. Christians should be praying for all of those who are in their particular workplace, especially those who have supervisory roles "in high positions." Christians should strive to do their jobs without disrupt­ing the work of others, without calling undue attention to themselves, and without constantly challenging authority—in other words, working "in all godliness and dignity" (1 Tim. 2:2). For Christians, this kind of peaceable and submissive behavior is not motivated by fear, people-pleasing, or social conformity, but by a healthy appreciation for the order God has established and by a desire for others to "come to the knowledge of the truth" (1 Tim. 2:4). As Paul says elsewhere, "God is a God not of disorder but of peace" (1 Cor. 14:33).
Does this conflict with the duty to be at the forefront of shaping the mission and core values of our workplaces? Some Christians try to shape missions and values through confrontation around controversial issues, such as same-sex partner benefits, health insurance exclusion for abortion and/or contraceptives, union organizing, display of religious symbols and the like. If successful, this approach may help shape the mission and value of the organization. But it often disrupts others' work, breaks the peace, and disrespects supervisors' authority.
What is needed instead is a more personal, deeper, and more re­spectful engagement of organizational culture. Rather than clashing over health benefits, could Christians invest in friendships with co-workers and become a source of counseling or wisdom for those facing major life decisions? Instead of pushing the boundary between freedom of speech and harassment, could Christians do their assigned work with such ex­cellence that co-workers ask them to explain the source of their strength? Instead of arguing about peripheral issues such as holiday decorations, could Christians help improve the core activities of their workplaces, such as job performance, customer service, and product design, and so earn the respect of those around them? In answering such questions, we can remember that Paul's advice to Timothy is balanced, not self-contradictory. Live in peace and cooperation with those around us. Seek to influence others by serving them, not trying to lord it over them. Isn't that what the King of kings did?
---
---