Books That Introduce Christians to Faith and Work
Article / Produced by TOW Project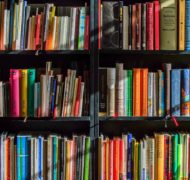 These books are popular introductions to the theology of work. Many people first hear the about faith and work from these authors. Read one of these books if you're searching for a lightbulb moment about your work as a Christian.
by Alistair Mackenzie, Wayne Kirkland, and Annette Dunham
Soul Purpose gently guides the reader through a journey of vocational discovery. Its workbook section helps you figure out the person God intends you to be. Read the entire book on this website or download a PDF of Soul Purpose.
by Tim Keller and Katherine Leary Alsdorf
Every Good Endeavor encourages readers to hold firm to the Christian faith even in the most competitive of work environments. Learn how to succeed in your career without sacrificing your soul. Get a free group study guide for Every Good Endeavor.
by Tom Nelson
Work Matters offers up a practical introduction to God's plan for everyday work. Understand your unique gifts and connect Sunday worship to your Monday work.
by Ben Witherington
Work: A Kingdom Perspective on Labor is a primer on the biblical theology and ethics of work. Witherington carefully considers work in relationship to rest, play, worship, the normal cycle of human life, and the coming Kingdom of God.
by R. Paul Stevens
In Work Matters: Lessons from Scripture, marketplace theology expert R. Paul Stevens reflects on more than twenty biblical accounts and what they say about work. Explore the theological meaning of every sort of work, manual or intellectual, domestic or commercial.
by Amy Sherman
Kingdom Calling throws a spotlight on the tsaddiqim from Proverbs 11:10, people who see everything they have as gifts from God. Learn how you can become a member of the tsaddiquim and pursue your vocation for the greater good.
Alistair Mackenzie and Wayne Kirkland
Bridging the gap between Sunday and Monday, Where's God on Monday is an accessible guide to integrating your faith with your job. Learn to serve and worship God every day of the week.
by Christine M Fetcher
24/7 Christian shows the importance of the Catholic faith in meeting the challenges facing working Christians today.
by Gene Edward Veith Jr. Crossway
With God at Work, work is no longer a daily grind. Learn to discover God in seemingly mundane tasks.