Curricular Integration Workshops
Seminary Curriculum / Produced by TOW Project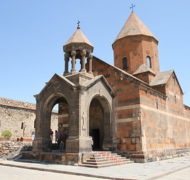 In March of 2018, Alistair Mackenzie and Will Messenger of the Theology of Work Project met individually with 15 faculty on the campuses of three Oikonomia Network schools: Asbury, Assemblies of God and Western. These meetings represented a joint effort by the ON, the Theology of Work Project and the three schools to take curricular integration of faith and work to the next level. The insights from this initiative can serve to inspire and inform future curricular thinking by educators everywhere.
Our meetings covered a variety of different disciplines including New Testament and Old Testament, systematic theology, preaching, church history, ethics, missional formation and social entrepreneurship. The agenda for each meeting was to identify appropriate biblical/theological materials and think together about how these elements might be applied and integrated into courses.
Participating faculty forwarded selected syllabi to us a month in advance of the visit, to enable us to come up with specific ideas about integration. Each faculty member then met individually with us on two successive days, for 90 minutes each day. Our goal was to work out concrete changes that could be made to each class. Faculty will report on these changes in future issues of the ON newsletter, after teaching revised classes in coming semesters.
Prior to each seminary visit, we invited each faculty member to join us in an individual Skype call. Most took advantage of this opportunity. This helped considerably to clarify expectations and to enable us to come prepared with specific suggestions about relevant ideas for courses.
A number of faculty approached our visit with suspicion. They suspected we had a predetermined package of resources to sell, a particular view of capitalism to champion, or were involved in some sort of evaluation process. Once we clarified that our goal was to help them incorporate biblical materials about work into their classes according to their own perspectives, suspicions faded, but it did make for an awkward start in some cases.
In every case, we enjoyed mutually stimulating conversations. It is unusual for most academics to open up in-depth discussions about courses they are teaching. This requires openness and vulnerability. We were grateful for that trust. Many participants said they had never engaged in such a deep conversation about their course content, and certainly not as it related to integrating faith and work.
Integrating modules related to work and the economy in core seminary courses remains a long-term challenge. We had hoped that in each class, faculty might find half a dozen places where significant interaction with theology of work-related concerns might be introduced, but the reality was that most limited their anticipated changes to one or two minor additions. Often, they felt their syllabi were already too crowded. Yet all faculty expressed appreciation for our conversations and suggestions, saying in most cases that otherwise they couldn't have taken the time necessary to go looking for this sort of material for themselves.
We realized from these comments that looking for applications to faith and work feels like trying to learn a new discipline. We didn't experience resistance to the topics we were talking about in theory. It was the practical pressure of crowded syllabi and multiple expectations that faculty identified as the limiting factors.
Two big takeaways for us:
Course curricula are so full that in order to be considered, new elements must be small and directly relevant bite-sized modules or short videos that can be creatively integrated within present topics and assignments.
We were confirmed in our perception that most theological coursework doesn't train students to equip congregants for their work outside the church. It is rare to find specific ways in which course content is designed to ensure that pastors are trained to equip people to live as Christians in their workplaces.
Only a few participants were previously aware of the Theology of Work Bible Commentary and associated faith at work resources that are available free online. Only one person had used this previously in coursework. Most said they needed assistance to appreciate how much source material is there, how it is organized and how it can be accessed online. In addition, most participants said that they would have still been unlikely to incorporate use of this Bible commentary in their teaching if they had not received the sort of specific examples relevant to their particular syllabus that we provided in the workshops. At two seminaries, we also made larger group presentations about resources available at the TOW website at faculty meetings, which proved very helpful.
We ended up producing numerous lists of possible pieces for classroom input, student readings and videos in different subject areas, to be presented in future articles.