Final Reflections on Curricular Integration Workshops
Seminary Curriculum / Produced by TOW Project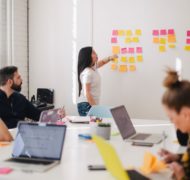 This article concludes the series sharing insights from a joint curricular development initiative of the ON, the Theology of Work Project and three ON schools (Asbury, Assemblies of God and Western). We end here with the questions that continue to loom largest in curricular integration. It was originally published at Oikonomia Network.
The Need to Give Higher Priority to Work
With growing financial pressures on seminaries, many are reducing their offerings to a smaller set of core courses, and more expectations are being placed on what essential elements these core courses need to include. In general, it would seem that elements related to the theology of work (TOW) are considered at most an important extra, but not part of the essential core. As a result, faculty find it hard to include more than a brief mention or single module on TOW. This means that TOW remains an add-on element rather than an essential lens through which other elements can be viewed. It is clear that equipping lay people for their whole life's work is still not regarded as an essential mission of pastors. Pastors continue to be trained primarily to lead the activities of the church as a gathered institution.
Why Prioritize Work?
The reason we are working in the TOW field is not because we think work is more important than other fields. It's because work is where most Christians invest most of their waking hours, and it is primarily through their daily work that Christians give expression (consciously and unconsciously) to what it means for them to live as followers of Jesus. Work is not just one issue competing with other issues for our attention. It is the context in which we are most often challenged to address other discipleship issues. Yet churches and seminaries too seldom seek to address these issues the way they arise in the places where Christians work.
Reading the Bible with Political Eyes but Not Workplace Eyes
Our research for the Theology of Work Bible Commentary alerted us to how seldom Bible commentators reflect on the significance of daily work in their discussions of the many texts in every book of the Bible that refer to work. Most Christians, even Bible scholars, have not learned to read the Bible with workplace eyes.
By contrast, we encountered a high degree of awareness of the Bible and politics among seminary faculty. For example, there was heightened awareness of questions about the Bible and same-sex marriage, or living wage, or immigration, or the environment and climate change, or interreligious dialogue. Faculty were keen to relate faith to life, but it tended to be in a higher-level theoretical and more political way, rather than relating scripture to the way Christians encounter these challenges at work.
These "political" issues are also workplace issues, but they are not often seen as workplace issues. How do I relate to the gay colleague who works alongside me and wants to talk about stuff he and his partner are working through? What about the non-English-speaking immigrants I work with? How do I deal with a difficult boss, or conflict at work? What about hiring and firing? There seems to be a significant gap when it comes to exploring theology and ethics in a way that moves from abstract principles to everyday practice.
Integration for a Younger Generation
There is pressure from a younger generation of Christians, including seminary students, to encounter a faith that applies to life outside church life and that will help them to integrate and find Christian meaning in different dimensions of life. These students want a theological education that includes the integration of biblical and theological literacy with spiritual formation, including vocational discernment, emotional health, the foundations for a Christian theology of work (including study and rest) and ethical integrity. When it comes to talking about whole-life discipleship, if daily work issues (paid and unpaid) are not addressed, that's not a whole-life discipleship for a whole life.
Integration for Every Age and Stage
Churches connect with people at every age and stage of life. It is important that seminary students understand ways in which preaching and teaching and worship and pastoral care can help equip and support Christians to participate in the work God has gifted them for at each stage from childhood to retirement. Where are the vocational resources for children and for the burgeoning baby-boom population at the other end of their working careers and for others moving through transitions and the seasons of life? Calling All Years Good, edited by Kathleen Cahalan and Bonnie Miller-McLemore, is one helpful starting point for this.
A Neglected Priority for Seminaries
We were disappointed to find very few specific examples of seminary courses, or even modules, that take seriously the equipping role of churches and pastors in resourcing congregants for their everyday working lives in the world. Teaching the Bible and theology in a way that is not connected to everyday life only perpetuates the sense that church leaders have been trained to live and talk about life in a different world to that in which most other people live.
Alistair hastens to add: "I have spent most of my life as a pastor and theologian wrestling with this challenge, which is what prompted my research into this subject in the first place. I know it's not easy."
Where to Start?
Although there are many resources now available to help with curricular integration, we discovered that most faculty are not familiar with these and welcomed assistance help to access them. We were not left expecting that many would make major changes to their courses, but there was openness to include smaller changes, centred on short videos or papers for reading and discussion, or assignments crafted around the workplace implications of certain topics.
Some of our dreams for a theological curriculum that integrates faith, daily work and economic life include:
For more resources see the Oikonomia website Curricular Integration pages, and the Scholars pages of the Theology of Work website.
We have been grateful for the opportunity to have these conversations about work and theological education. We are particularly grateful to the schools and faculty who made time and space for these workshops. We look forward to the opportunities that we trust the Lord will open for future collaborations between the academy and the faith and work movement.