Teaching Business to Seminarians: Crossovers Between Commerce and Kingdom?
Seminary Curriculum / Produced by TOW Project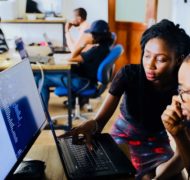 ASSIGNMENT: A QUOTE AND RESPONSE
"God's people can, as agents of His redemptive plan, transform business, stripping it of selfish ambition and pursuing instead what's best for their neighbors. Through business, God's people can harness mankind's creativity, and with it nurture His creation, developing products that make the world more satisfying. Through the economic power of commerce, Christians can make the world safer and healthier. The members of Christ's Church, distributed in offices around the world, can transform greed into good stewardship, showing the world that business has a biblical responsibility to create new wealth and provide a fair return to investors (Matthew 25:14-28). But, with an eye toward the consummation of Christ's kingdom, we also create wealth in order to create new and satisfying jobs, which offer hope (and perhaps a glimpse) of a coming world where there is no poverty (Richard Doster, "The Kingdom Work of the Corporate World," By Faith 11 [2006]).
Is this just a utopian dream? To what extent can it become realised as a present reality? Describe some practical strategies that would help to make this more of a reality. In what ways do you find this personally challenging or inspiring?