Want to See Work Through New Eyes? Grab Our Latest Bible Study Resources.
News and Events / Produced by TOW Project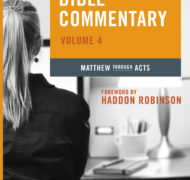 Press Release, 2014
If you've ever wanted to know how everyday work matters for God's kingdom, we have tools that can help. On October 24, 2014, the Theology of Work Bible Commentary (Volume 4: Matthew-Acts) will be released in print for the first time. The entire commentary is currently available for free at www.theologyofwork.org.
We're also releasing five never-before-published study guides, based on the TOW Commentary; the study guides are designed for indviduals and small groups.
The TOW Commentary can be used for bible study or as a reference for myriad topics. It helps pastors, seminary students and Christians in the workplace address a broad range of work-related questions, such as:
Are church work and charity work higher callings than other work?
I hate my job. Should I quit?
Is it possible to pursue success and wealth in a godly way?
Here's what other people have said about the TOW Commentary.
"The conversation about faith and work is deeper and richer thanks to the Theology of Work Project."

- Andy Crouch, Executive Editor, Christianity Today

I can't tell you how much I struggle with my faith at work and I can't thank you enough for this website. it is already helped me a great deal...your article about the meek has motivated me and brought new life to my efforts at work." - Brad, online TOW Commentary user

"If you were here, I'd HUG you!!!! Thanks so much! Studying OT and Exegesis at NY Theological Seminary!!" - Linda, online TOW Commentary user

"As a longtime advocate for a theology of work, I have urged people to see the Bible as a guidebook for our working lives. Reading these marvelous commentaries, however, has given me inspiring new insights into how rich a guidebook God's Word really is!" - Richard Mouw, Professor of Faith and Public Life, Fuller Theological Seminary; (former) President, Fuller Theological Seminary
The commentary is available in its entirety, book by book, for free at www.theologyofwork.org. The print version of the commentary and the study guides (Genesis 1-11 and Work; Proverbs and Work;Luke and Work; James and Work; Philippians and Work) are available at theologyofwork.christianbook.com.