Salt and Light (Classroom Activity for Grades 2-5)
Small Group Study / Produced by partner of TOW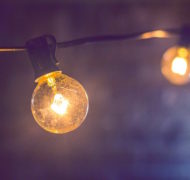 This lesson is part of God's Story of Work for Kids, a 12-week curriculum that teaches children to see work through God's perspective.
PROPS
straws cut to different lengths

handkerchiefs or blindfolds

timer

pencils
OPENING ACTIVITY: The Power of Light (7 MINUTES)
Pair up students. Explain that one teammate will be blindfolded by the other. After being blindfolded, the other teammate will hand them 10 straws of different lengths. In one minute, they must line up the straws by height order. After one minute, switch so that the other teammate has a turn. Repeat the activity - this time with no blindfold.
Review - Having light makes life so much easier. It makes an incredible difference. Jesus calls us the light of the world. We can help people see a better way to live and show who God is by living for Jesus and being lights.
WORKSHEET: My salt and light impact (15 MINUTES)
Give each child a copy of my-salt-and-light-impact.pdf Review what it means to be salt and light as identified on the sheet. Have students fill out the sheet to identify where they are (or could be in the future) salt and light.
Review- Ask students what it might be like to live in a world where no food had any salt and to live without light. Salt and light make such a big difference in our daily life, and Jesus was very intentional when he used these 2 things to compare what Christians are like. Though students might not think so, when they live for Jesus in our broken world, they bring an incredible taste of God with them. The words and actions of faithful Christians are salt and light to those around them.
One or the other game (8 MINUTES)
Every time we meet someone or do something we have two choices. We either give light by shining for Jesus, or we bring darkness. Pair up students and have each pair pick one card from the pile of cards cut out from one-or-the-other-cards.pdf One person will demonstrate what it's like to be light, the other person will demonstrate what it's like to be darkness. Give students some time to prepare, and then let each group perform in front of the class.
SHARE & PRAY (5 MINUTES)
Ask students to share where they would like to do a better job being salt or light. Ask them to pray for each other and remind them that God listens to their prayers.
---
---