Turning Up the Wattage (Take-Home Activity for Parents and Kids)
Small Group Study / Produced by partner of TOW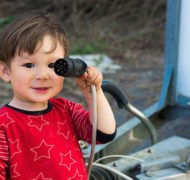 This lesson is part of God's Story of Work for Kids, a 12-week curriculum that teaches children to see work through God's perspective.
THIS WEEK'S FOCUS: God is in our everyday work
We learned today that our source of power for partnering with God is... God! We are like a lightbulb that can only light up when plugged into a power source, and God is the power source for us. As we grow in relationship with God, we are able to be more fully ourselves, and more fully aligned with God's desires for our work. Growing in relationship with God is like any relationship - it takes a commitment of spending time together where we include God in what we're doing, be honest with God, and listen for God.
DO THIS WEEK'S WORKOUT: THE examen
Pick an activity to do with your family this week:
option 1 - PRAy the examen individually and share
As a family, dedicate 15 to 20 minutes of each weekday evening to gather and pray silently.
Print the examen-guide.pdf for each family member.
Once the quiet time is over, gather together and share 1 sentence each of something you sensed from God.
option 2 - talk over these questions at the dinner table
What moment today made you most happy or thankful? (Initially you may need to name a few things in a young child's day to help them catch on.)
What moment today made you the most unhappy or least grateful?
How did you show love today? (For very young children, you may offer suggestions to clarify how someone shows love: Who did you share with today? Who did you help today?)
What was one time your actions or behavior were negative or you withheld showing kindness? (Again, for young children you might ask: Was there a time you did not share today? Was there a time you said a hurtful word or did not help?)
Briefly give thanks for this time of reflection and for God teaching each of you to be more loving.
---
---