Work that Matters (Take-Home Activity for Parents and Kids)
Small Group Study / Produced by partner of TOW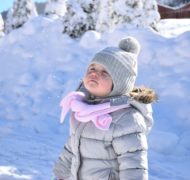 This lesson is part of God's Story of Work for Kids, a 12-week curriculum that teaches children to see work through God's perspective.
THIS WEEK'S FOCUS: Work that matters requires living as a steward or manager, not as the boss
Every human being longs to make a difference. This is part of God's design for us. There are true and counterfeit ways to fulfill this longing. The counterfeit way is to use the people, things and abilities in our lives for our self. The life-giving way is to live seeing the people, things and abilities in our lives as gifts and responsibilities given by God to steward and manage for him. A steward is a person who manages another person's property or money as the owner would want them managed. We se such a life of stewardship in Jesus. God's son washed the feet of his friends, the disciples, rather than seeking ot have his feet washed. As we live and work as managers, we help bring God's presence into our broken world.
DO THIS WEEK'S WORKOUT: HOW DO WE WORK?
The Weekly Workout is a great way you can work out the week's focus with your child. Invite the whole family into this time. God is at work.
To steward or manage something well means:
You treat the thing or the person as belonging to God not to you
You handle it with love
You invest time into developing or caring for it
Pick an area of your family life that could be better stewarded. It could be an area of your home or property, or a relationship that needs attention. Do you need to spend time doing physical work together? or doing relational work together? (talking together, praying for each other, etc.).
Decide on what you will do this week to steward this area of your family life. It could be a one-time thing such as a family work day, or it could become a weekly habit of unplugging together, or a daily habit of praying together every morning.
Talk about it: How did it feel to steward this together?
What did you learn by doing someone else's work?
---
---