God in Our Monday to Sunday (Take-Home Activity for Parents and Kids)
Small Group Study / Produced by partner of TOW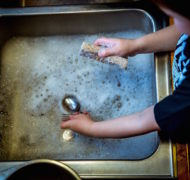 This lesson is part of God's Story of Work for Kids, a 12-week curriculum that teaches children to see work through God's perspective.
THIS WEEK'S FOCUS: God is in our everyday work
God didn't just call people to be preachers, he also called craftsmen to work in the trades and he blessed them with skills to carry out their work. Often we don't see the holiness of the work that other people do all around us. But God sees. God wants everyone's work to be valued. And he wants us to feel his presence in the work we do Monday through Sunday.
DO THIS WEEK'S WORKOUT: seeing the value in everybody's work
The Weekly Workout is a great way you can work out the week's focus with your child. Invite the whole family into this time. God is at work.
On a large piece of paper write the names of each person in your family. Draw a circle around each of those names. Then ask each person in your family what work they plan on doing this week. There might be multiple types of work that one person does: work for money, work in the home, work for school, and work for fun. Draw lines out from each circle and write down the different types of work each person in your family does.
In the spaces left on the paper, write down people whose work affects your life. These could include a coworker, a fellow student, a teacher, a babysitter, a mailman, a family doctor, or the person who makes your coffee. Take turns pointing to each of these people and listing ways their work makes your life better. End by praying that God would be present in each person's work, and that each person would see the value in their own work and in the work of others.
Talk about it: What did you learn about the work of the people around you? Do you want to thank anyone for the work they do?
---
---