Ambition: Winnefred Abena Boachie, Midwife
Blog / Produced by The High Calling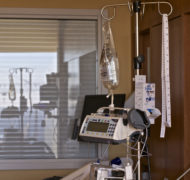 Seriously, all you need to do is meet Winnefred Boachie, and you'll follow her anywhere. Winnefred is in charge of all aspects of midwifery at St. Luke Hospital, Kasei, Ghana. Zealous, keen, forceful and lively—those words all apply, maybe even driven. But determined is a better word. Or, purposeful. Among the patients she serves, Winnefred sees her life as a calling that came in no unspoken terms years ago.
A huge yellow generator sits in its own enclosure just off the road that leads to the hospital's front doors. It's a gift, actually, and it's capable of powering almost everything at St. Luke. What it doesn't run, however, is the souls of those who serve. That energy comes from the commitments of employees like Winnefred Boachie.
Winnefred is part of a family of a single mom and "five beautiful sisters," as she describes them. Winnefred remembers when her mother was pregnant with twins and had to be hospitalized. When that happened, Winnefred remembers very well that things were not looking good. She was only seven years old back then, but what she's never forgotten is the loving attention a midwife and a young doctor offered her mother right there at the bedside, hours of encouragement and support. "To the family," Winnefred says, "all hopes were lost—I felt my mum was about to give up on life."
She remembers crying right there in the hospital, dozing off, then waking to see those two still there at her mother's bedside. They wouldn't let her mother go but neither would they let her children suffer. Those two were models of truly kindhearted caring, a blessing to all of them, a gift of grace, and an inspiration.
Her twin sisters, now 17 years old, are lovely and thriving, she says. But right there in the hospital, when her mother's life was in question, Winnefred determined that she too would go into medicine. "I developed a passion for health. I really wanted to help save a life and put a smile on the faces of a family." Winnefred Abena Boachie wanted to give away the love her family had received from that young doctor and midwife.
In 2012, after her three-year program at Manpung Midwifery Training, the government posted her at St. Luke Hospital, a long ways out in rural Ghana. "I prayed and asked God for a place where my services would be most needed," she says, and while it hasn't always been an easy journey, she claims that Kasei has been "a place I came, really, to understand and appreciate life."
Initially, women from the villages she serves had trouble understanding the importance of delivering their babies in the hospital; some still don't understand, she says. Even today some women rush in when delivery problems like post-partum hemorrhaging, perineal tears, and prolonged labor occur. These patients rush in at a time when care has already become more difficult and therefore more critical.
Once the staff realized the nature of the problems faced by the communities they served, she says, Winnefred and the staff took their plans for more comprehensive maternal care into the villages, where they met with chiefs and elders to talk about teaching pregnant women the benefits of early maternal care-seeking.
"To the glory of God, so far so good," Winnefred says, a smile generated from endless energy and boundless blessings, "—zero maternal mortality."
That bottomless resolve you see in her eyes and feel in her heart has not faded, only sharpened. "There are times I wish I knew everything," she'll tell you with a determined smile. "I wish I could do so much more for my people." Daily, she encounters challenging cases but still holds to the dream developed in that hospital where her mother was suffering: she wants to become a medical doctor, a gynecologist, to help even more rural women.
Being placed at St. Luke has been a great blessing. "There's a reason for my being here," she says. Today she understands the problems that occur in rural villages far better than she did when first she came to a place where women and men and children have been without comprehensive medical care for generations. She loves St. Luke for teaching her about very real medical problems she didn't even know existed.
"I thank the most high God for bringing me this far," for continuing to point her in a direction she chose years ago and for giving her a place that honors Jesus Christ. "For peace, unity, and the passion to work that's in all the staff here at the hospital, we say, 'All praise to the Abba Father. Receive our thanks, O Lord.'"
Today, at just 25 years old, Winnefred Abena Boachie is already the inspiration she always wanted to become.
______________________________
Ambition
Is ambition positive, neutral, destructive, or fallen but redeemable? Does ambition interfere with Christian witness? What is the difference between being called and being driven? And why does it matter? Does it matter? Western culture values a strong work ethic, and we encourage our children and their children to strive and work toward success. Have we put our focus in the right place? Join us for this High Calling series that we've titled simply, Ambition.