Man vs. Mall
Blog / Produced by The High Calling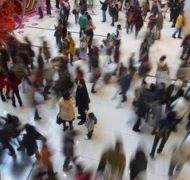 I'm a red-blooded American man, well equipped to take on most of life's challenges. I can live off the land if necessary, negotiate at the business table and lead the team to victory.
But put me in a mall, and I am reduced to just another dopey guy, caught in the glare of a million lights, every one of them reminding me that time is running out. I long for any other season except this one, full of "one-day sales," "early-bird specials" and "savings events."
Like a hunter, I scan the shopping arena, hoping for the quick score so I can go home. After an excruciating ten minutes or so, desperation sets in. At this point, I become despondent, yet wary and suspicious.
Over the years I've learned that anything with a size on it is a trap — buy a sweater too large, and it's an insult; too small, and it's a humiliation. While she might be handy in the kitchen, purchasing a cookbook might send a wrong signal. And I've learned to avoid anything with "fitness" in the title.
Jewelry stores are especially confusing, as I am easily dazzled by the sparkle of cubic zirconium and 15 percent off.
Most of the time, we men get in trouble because we buy something that we think she needs. Our inclination is to be practical instead of sentimental, and what's more practical than a tool or gadget? Or cash can always come in handy, right? How about new car mats?
One guy I knew bought his non-coffee-drinking wife an espresso machine. A younger friend of mine bought his wife a video game, with the presumptive thought it would bring them closer together while he played.
The women in our lives might reason that they've been dropping hints all year, becoming more and more obvious the closer we get to the big day. But I can testify that men don't get hints – ever. The ad left on the counter with a pretty necklace circled with a red pen probably went out with the other recycling. The "wow" uttered during a commercial was lost to the atmosphere.
We male shoppers share the same struggle as we wander through stores this time of year; yet no one dares to offer confident solutions. No man seems able to reach out to another with wisdom or insight. So we assume membership in the fraternity, walking the red and green mile in the mall. The mannequins sporting festive sweaters stare back in mocking incredulity. Can we find guidance and inspiration anywhere?
As a Christian man, I turn to the Bible for help, as I do for rest of life's biggest problems; but there's scant recorded in the Old Testament about gift-giving that doesn't involve goats, honey or clothing made out of camel hair.
The wise men's gifts of gold are understandable – but they sound expensive. Frankincense and myrrh are found in the spice aisle, right?
Then I realize what I'd really like to give her is the gift of a godly man who is "rich in good deeds …generous, ready to share." Wouldn't she be thrilled to receive the gift of someone who doesn't "grow weary in doing good"? Isn't that what every woman really wants?
Of course, it's hard to put a bow on these admirable traits. Even if I could figure out how, I suppose she'd like to unwrap something more tangible, as well, which puts me right back in the mall, staring at sale tags.
It's enough to reduce a man to tears. What does a woman really want? Can someone help me! Anyone? Because if I don't get some input here, I'm abandoning the mall and heading to the only place I feel confident making a decision:
Home Depot.
"Even shopping is hectic" photo by Mark Simons. Used with permission. Post by David Rupert.
---
After hearing of David's and Cheryl's gift woes (and admitting a few of our own), TheHighCalling Team got together in our virtual office. There, amidst laughs and a lot of good Christmas cheer, we brainstormed about gift ideas. All of us liked the idea of "humanitarian" gifts, so we're including links to our favorite charitable gift places below.
But we also found that many of us love to share gifts we wrap and hand to our families and friends. Most of us admitted we like to receive gifts too! Check out our favorite gifts wished-for, received, given, and about-to-be-given. If you want to guess who suggested certain items in the gift-ideas box below, we bet you could figure it out!
Our Christmas Lists
Top 10 Writing Books for Christmas
​Winter and Christmas Verse & Music