What Will They Remember?
Blog / Produced by The High Calling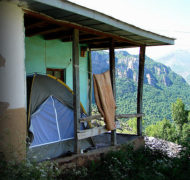 A couple of times each summer when the thermometer rockets past 90 degrees we take the kids to the city pool. It's not my favorite summer pastime—tanned bodies packed into the churning water, heat blasting off sun-baked concrete, Bomb Pop wrappers somersaulting past in the dry wind. As I spread striped beach towels on burning pavement and hand out goggles, I try not to think about all those diapered babies with whom I am about to share the pool.
We don't belong to The Knolls or Hillcrest or Firethorn, the clubs with the fancy names that dot the outskirts of town, but not because I don't want to. I've spent more than a couple of hours crunching numbers, yellow legal pad covered in penciled columns. I've thought about what we can cut in order to afford even one summer at the pool with the waiters who deliver drinks and fruit platters on a tray. But the numbers don't add up.
Last year our friends invited us to spend an afternoon with them at the club. From our lounge chairs my friend and I kept an eye on the kids as they cannonballed from the high dive. The husbands played nine holes on the executive course.
"I want to belong to a club," I told my husband as we drove home. "It's not fair that we have to swelter all summer long while everyone else sips piña coladas and dangles their feet in the pool."
Later that evening, still obsessing over the club pool, I recalled my childhood summers. We spent most of July and August in a camper tucked into the Connecticut woods—not a behemoth recreation vehicle, but an actual trailer, with bunk beds covered in my dad's old Army blankets and a Coleman stove propped on the picnic table beneath the musty awning. During the day I dove from a wooden platform into the cold lake, opening my eyes underwater to chartreuse velvet as I grabbed handfuls of silt from the bottom. Later I'd dry off in the hot sun, splayed on a nubby beach towel, an Atomic Fireball tucked into my cheek.
My dad had two jobs, and my mom worked the lunch shift at Friendly's, the local sandwich and ice cream shop. My parents didn't have much money, but I didn't know it at the time. All I knew were summers in a trailer, tucked into my bunk, scent of Coppertone on my skin, whippoorwill calling from the birch.
These days my own family spends part of each summer at a cabin in northern Minnesota, where the kids skip smooth stones into Lake Superior, spot Lady Slipper blooming along shaded paths and perch on stumps around the campfire.
Sometimes I wonder what my kids will remember from their summers. Will they regret what they missed—cannonballing from the high dive into a pristine pool, moseying up to the club's snack bar, Shirley Temples delivered on a tray? Or will they be satisfied with recollections of cool nights in the Minnesota woods, roasting brats on sticks over the fire, the loon calling from cold water?
Post by Michelle DeRusha.