Character, Competency, Chemistry,
&

Chicken: An Interview with Dee Ann Turner, VP at Chick-fil-A

Blog / Produced by The High Calling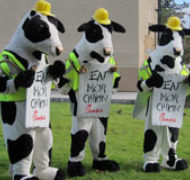 Dee Ann Turner has worked for Chick-fil-A for more than 25 years and currently serves as Vice President of Talent. She oversees recruitment, selection, and retention of corporate staff and Chick-fil-A Franchisees.
Dee Ann attended Cincinnati Christian University in Cincinnati, Ohio, where she received an undergraduate degree in Journalism and Christian Education and completed her education at Clayton State University with a degree in Management in Atlanta. She received further certifications at Goizueta School of Business at Emory University, Darden School of Business at the University of Virginia, Kenan-Flagler Business School at UNC Chapel Hill, and Harvard Business School. Dee Ann and her husband, Ashley, have been married for over 25 years and have three children. The family is actively involved at Legacy Christian Church.
In this interview, she discusses how she found her "high calling," how she works at Chick-fil-A to help people be their best, and what it means when Chick-fil-A says that their mission is to "glorify God."
How long have you been at Chick-fil-A and what have been your areas of responsibility at the company?
I have been at Chick-fil-A for twenty-five years and have spent the entire time in Human Resources, which we now call Talent. I had a marketing background, but I was hired to work in HR. My original intent was to work in HR for a couple of years then move to marketing, but I never left.
Actually, I thought my "high calling" was to be in "full-time ministry." So when I went to Chick-fil-A, I thought I was not doing my calling. But I've now come to see that my job at Chick-fil-A is my "high calling." I now realize that "my full-time ministry" is to help others find their path in life and discover where they can use their gifts and talents at Chick-fil-A.
What are your current responsibilities?
My current title is Vice President of Talent. There are three departments that are under Talent. The first is Franchisee Selection, which has to do with selecting and equipping all of our restaurant Franchisees. We have around 1,000 Franchisees operating over 1,500 restaurants.
The second area is Human Resources, which are all the functions of selection, orientation, and retention of our corporate staff as well as some of the benefit programs like our wellness and child-care programs. We have 750 corporate staff.
The third area is Talent Strategy. This group works on our future planning to sustain a growing company in the areas of workforce planning, cultural preservation, and performance management.
Is there a reason why you call it the Talent Department?
We just restructured that way, primarily to position ourselves to be scalable for the growth that we are planning. Human Resources has been evolving, and Talent better captures what we want to do at Chick-fil-A. We really want to find and cultivate talent. Our goal when we make any selection at any point in our process is that we raise the bar on talent.
What is Chick-fil-A's annual revenue?
In 2009, we passed over $3 billion in revenue, and, in 2010, we reached $3.4 billion.
With your high level of responsibility in the organization, what do you do to keep yourself in touch with what your Franchisees and employees are going through?
I love to be in the restaurant, especially interacting with customers. We can never forget our money is being made from people standing in line with a $10 bill. Furthermore, I genuinely enjoy spending time with our Team Members and learning about the business from their perspective.
My twenty year-old son is a Chick-fil-A team member in Athens, Georgia, where he is a student at the University of Georgia. We have a deal that he cannot complain or talk to me about what is going on in his Chick-fil-A restaurant. Rather he needs to discuss that with the Franchisee. But he can tell me anything that we at corporate would need to know to help us serve the Franchisees and our Chick-fil-A Team Members better. It has been so enlightening for me to listen to him. We can't forget our Team Members are the key ambassadors to creating raving fans of our customers.
In a lot of companies, corporate is the pinnacle of the company, but at Chick-fil-A it is the Franchisee. Our home office with 750 staff exists purely to support and empower the Franchisees. Our home office would not exist if it weren't for them. Whenever a Franchisee comes to the office, I always make it a point to stop what I'm doing and talk to them. We are there to serve them.
Another practical thing we do is have an annual three-day convention, the Operators' Seminar. All of the Franchisees and their spouses are invited for recreation, motivation, and inspiration and to review the business plans for the coming year.
Do the Franchisees essentially buy a franchise? What is the nature of the relationship?
We select a location, build a restaurant, and equip it. Then we select a Franchisee for that specific opportunity. They go into business by making a $5,000 deposit. They remit 15% of their gross sales monthly back to Chick-fil-A. They earn 50% of the net profit, and Chick-fil-A receives the other 50%.
Then you are really focused on making sure you have the right Franchisee in position. What does Chick-fil-A look for to ensure you get the right person?
Having the right Franchisee in the restaurant is imperative. First, we look for character. We are looking for someone who has a track record of good strong moral and ethical behavior and people who value serving others with a bias toward growing themselves and others.
Second, we look for competency. For Franchisees, this means strong leadership skills, an ability to grow the business and make a profit commensurate with the opportunity.
Third, we look for chemistry, the ability to fit in with our team. For Franchisees, we are also looking for people who have good chemistry with their community. We want someone who is familiar with the area, knows the people, and understands how the community works. We also want them to fit in with the other Franchisees.
At Chick-fil-A, we don't just work together, we do life together. We hope to be in a relationship with the Franchisees and staff members for a very long time. We share honor, dignity, and respect for one another. We have to understand how to live and work with one another.
How does Chick-fil-A preserve its values when Franchisees are independent contractors?
As we grow, that is becoming an increasing challenge. We also believe in the value of being a diverse organization in a variety of ways. We used to be quite homogenous, and didn't look extensively beyond our natural relationship networks. We don't do that anymore. We intentionally look for people outside of our traditional networks.
The key is in selection. It is much like marriage. You have to make sure you are choosing the right person. We actually call it a courting process when we are researching a potential Franchisee. It is also a big decision for them.
We spend a lot of time investigating potential Franchisees, and it is an expensive process. But we invest so much on the front end of the selection process that we very rarely have to end an agreement with a Franchisee.
Why has Chick-fil-A chosen to stay private?
That is certainly the desire of the Cathy family. With a publicly traded company, they could not do certain things that they can if they remain private. For example, our annual Operators' Seminar includes all of the Franchisees, staff, and their spouses. Most stockholders would not allow for that expense. Chick-fil-A is very generous and donates heavily to charitable projects. Remaining private allows the family to support what is closest to their hearts.
Truett is a true entrepreneur. He wants to do things the way he wants to do them. The Cathy family realizes that if they were to sell, they would lose their ability to do things a certain way.
Chick-fil-A is well-known for not operating on Sundays. How has that worked out since Sunday is a big day for going out to eat? Has this resulted in a lot of missed sales over the years?
That's a super question. This is another prime example of why the Cathy family would not want to be a public company. It is doubtful that a public board of directors would allow Chick-fil-A to stay closed on Sundays for the exact reasons you stated.
When we started in the mall business, Chick-fil-A always led all the restaurants on sales even though we were only open six days to their seven. I think that is still true even though the majority of the restaurants are now free-standing restaurants.
People always say to Truett, "You could make so much money if you opened on Sunday." His response is that we've been so successful because we have not been open on Sunday.
Truett's children, two sons and a daughter, actually wrote a covenant that they would not do two things: 1) Sell the company or go public, and 2) Open on Sunday.
A lot of people believe the no Sunday practice originated due to Truett Cathy's faith. And it did evolve to relate to that over time, but originally they closed on Sunday because Truett was exhausted. He needed rest. He said that if a person couldn't earn a living in six days, then he needs to do something else.
It was about rest, but also about spending the time to rejuvenate and get strong again to serve his customers. As he hired people, he also realized how important it was for his employees to also have a day off.
There is no doubt that it is part of Truett's personal belief that it is honoring to the Lord to take a day of rest. But it is not limited to that. There are some real practical reasons why Chick-fil-A has continued to remain closed on Sundays.
How does your personal faith influence your role at Chick-fil-A?
I have an interesting job, and I have to make a lot of decisions about people's lives. I try to never forget that. When I am interviewing someone, it may be the fourth or fifth person I'm interviewing that day, but it can be a thirty-year decision for the interviewee.
Some decisions are easy to make, but others are very difficult. When I have to make these decisions, I pray over them, and I ask God for wisdom. It is not an everyday decision. It really is about someone's life and livelihood.
When I have to turn down a candidate, I remember that this is someone's husband or wife, father or mother, son or daughter. I want them to be treated in the way I would want those people in my life to be treated, sort of an extension of the Golden Rule.
As I mentioned earlier, I think my ministry is helping people find their path. At the moment of decision, I make sure I am not interfering with God's plan for someone's life.
It is a heavy weight to me. It is something I take very seriously.
Hebrews 12:15 says, "See to it that no one misses the grace of God." As I work with my own staff and lead a team of twenty-six people, I keep that in mind. Some days don't go so well. But it's typically just that day. This doesn't mean that I'm soft on performance, but it means looking at the long view of the performance of an employee.
When we get to the point of termination, I know Truett will ask me what have I done to salvage the relationship. He will want to know that we have done everything we can to help this person succeed. We selected them, so we have to help them be all that they can before we break that relationship.
To me all of this is foundational to faith.
Chick-fil-A's purpose statement is: To glorify God by being a faithful steward of all that is entrusted to us and to have a positive influence on all who come in contact with Chick-fil-A. How do you think this fits with what Chick-fil-A does as an entity?
All of us together are stronger and better than any one individual. Our Corporate Purpose stands on a cement monument outside of our corporate headquarters. It wasn't adopted until 1983, and it is only our Corporate Purpose statement. Though many Franchisees have adopted the Corporate Purpose, they are not required to make it their purpose statement.
One expression of our purpose is the generosity of Chick-fil-A. Generosity is one of our core values. We gave out $1.9 million in leadership scholarships last year. Our giving is a line item in our budget. Giving comes off the top.
One night I was at a dinner meeting with ten people affiliated with Chick-fil-A, and I was talking to one other person about some of the mission work I had done in Africa. Eventually, I realized that everyone was having private conversations about their mission work activities. I would love to do a spreadsheet of our 1,000 Franchisees and 750 corporate staff and all of the serving they have done around the world. It is truly a community of service-oriented people, and I believe primarily because of the influence of Chick-fil-A on all of our lives.
Image by Guzzle and Nosh. Used with permission via Flickr. Post by Mark Russell.