God's Timing: April 11 Newsletter
Newsletter / Produced by The High Calling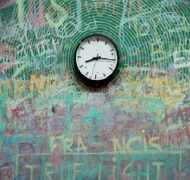 We worry, "Am I in the wrong place at the wrong time?" Or "Am I in the right place at the wrong time?". God also is interested in time and place. But God's timing may not always look like ours. This week our writers discern God's hand at work in surprising times and places.

Wrong Place, Wrong Time? . . . Right Place, Right Time?
From The High Calling
The right place is wherever I can work in relationship with Christ. The right time is moment by moment, doing what God calls me to do.
In God's Perfect Time
From The High Calling
Sometimes God seems inexcusably slow. Sometimes God surprises us with the swiftness of his grace.
Timing
From the Theology of Work Project
We are creatures of this world. We go through changes and seasons of time. This is another hard lesson.