Timing (Eccl 3:1-4:6)
Bible Commentary / Produced by TOW Project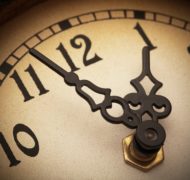 If work has no single, unchanging purpose, perhaps it has a myriad of purposes, each meaningful in its own time. The Teacher explores this in the famous chapter beginning, "For everything there is a season, and a time for every matter under heaven" (Eccl. 3:1). The key is that every activity is governed by time.
Greg Forgatch and Neil Clark Warren, co-founders of eHarmony, say that their company came to the market with the right offer at the right time. What Dr. Warren was doing for people one-on-one became available to millions as technology advanced.
Work that is completely wrong at one time may be right and necessary at another. At one moment it is right to mourn and wrong to dance, and at another moment the opposite is true.
None of these activities or conditions is permanent. We are not angels in timeless bliss. We are creatures of this world going through the changes and seasons of time. This is another hard lesson. We deceive ourselves about the fundamental nature of life if we think our labors can bring about permanent peace, prosperity or happiness. Someday, everything we have built will rightly be torn down (Eccl. 3:3). If our work has any eternal value, the Teacher sees no sign of it "under the sun" (Eccl. 4:1). Our condition is doubly difficult in that we are creatures of the moment, but, unlike the animals, we have "a sense of past and future" in our minds (Eccl. 3:11). Thus, the Teacher longs for that which has permanent value, even though he cannot find it.
Moreover, even the timely good that people try to do may be thwarted by oppression. "On the side of their oppressors there was power — with no one to comfort them" (Eccl. 4:1). Worst of all is oppression by the government. "I saw under the sun that in the place of justice, wickedness was there" (Eccl. 3:16). Yet the powerless are not necessarily any better. A common response to feeling powerless is envy. We envy those who have the power, wealth, status, relationships, possessions or other things we lack. The Teacher recognizes that envy is as bad as oppression. "I saw that all toil and skill in work come from one person's envy of another. This also is vanity and a chasing after wind" (Eccl. 4:4). The drive to gain achievement, pleasure, wisdom or wealth either by oppression or by envy is an utter waste of time. Yet who has never fallen into both of these follies?
But the Teacher does not despair, for time is a gift from God himself. "God has made everything suitable for its time" (Eccl. 3:11a). It is right to cry at the funeral of a loved one, and it is good to rejoice at the birth of a child. And we should not refuse the legitimate pleasures our work may bring. "There is nothing better for them than to be happy and enjoy themselves as long as they live; moreover, it is God's gift that all should eat and drink and take pleasure in all their toil" (Eccl. 3:12-13).
These life lessons apply in particular to work. "So I saw that there is nothing better than that all should enjoy their work, for that is their lot" (Eccl. 3:22a). Work is under the curse, but work is not in itself a curse. Even the limited vision we have into the future is a kind of blessing, for it relieves us of the burden of trying to foresee all ends. "Who can bring people to see what will be after them?" (Eccl. 3:22b). If our work serves the times that we can foresee, then it is a gift from God.
At this point, we get two glimpses of God's character. First, God is awesome, eternal, omniscient, "so that all should stand in awe before him" (Eccl. 3:14). Although we are limited by the conditions of life under the sun, God is not. There is more to God than meets the eye. The transcendence of God — to give it a theological name — appears again in Eccl. 7:13-14 and 8:12-13.
The second glimpse shows us that God is a God of justice. "God seeks out what has gone by" (Eccl. 3:15) and "God will judge the righteous and the wicked" (Eccl. 3:17). This idea is repeated later in Eccl. 8:13, 11:9 and 12:14. We may not see God's justice in the apparent unfairness of life, but the Teacher assures us it will come to pass.
As we have noted, Ecclesiastes is a realistic exploration of life in the fallen world. Work is toilsome. Yet even amid the toil, our lot is to take pleasure in our toil and enjoy our work. This is not an answer to the conundrums of life, but a sign that God is in the world, even if we do not see clearly what exactly that means for us. Despite this somewhat hopeful note, the exploration of timing ends with a double repetition of "a chasing after wind," once in Eccl. 4:4 (as discussed above) and again in Eccl. 4:6.
---
---