Wealth (Eccl 2:18-26)
Bible Commentary / Produced by TOW Project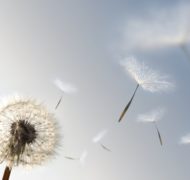 Then the Teacher turns to wealth, which may be gained as a result of toil. What about the accumulation of wealth as the higher purpose behind work? This turns out to be worse than spending wealth to gain pleasure. Wealth brings the problem of inheritance. When you die, the wealth you accumulated will pass to someone else who may be completely undeserving. "Sometimes one who has toiled with wisdom and knowledge and skill must leave all to be enjoyed by another who did not toil for it. This also is vanity and a great evil" (Eccl. 2:21). This is so galling that the Teacher says, "I turned and gave my heart up to despair" (Eccl. 2:20).
At this point, we get our first glimpse of the character of God. God is a giver. "To the one who pleases him God gives wisdom and knowledge and joy" (Eccl. 2:26). This aspect of God's character is repeated several times in Ecclesiastes, and his gifts include food, drink and joy (Eccl. 5:18, 8:15), wealth and possessions (Eccl. 5:19, 6:20), honor (Eccl. 6:2), integrity (Eccl. 7:29), the world we inhabit (Eccl. 11:5) and life itself (Eccl. 12:7).
Like the Teacher, many people today who accumulate great wealth find it extremely unsatisfying. While we are making our fortunes, no matter how much we have, it doesn't seem to be enough. When our fortunes are made and we begin to appreciate our mortality, giving away our wealth wisely seems to become a nearly intolerable burden. Andrew Carnegie noted the weight of this burden when he said, "I resolved to stop accumulating and begin the infinitely more serious and difficult task of wise distribution."[1] Yet, if God is a giver, it is no surprise that the distribution of wealth, rather than its accumulation, might be more satisfying.
But the Teacher does not find satisfaction in giving wealth any more than in gaining it (Eccl. 2:18-21). The satisfaction God in heaven finds in giving somehow escapes the Teacher under the sun. He does not seem to consider the possibility of investing wealth or giving it away for a higher purpose. Unless there is indeed a higher purpose beyond anything the Teacher discovers, the accumulation and distribution of wealth "also is vanity and a chasing after wind" (Eccl. 2:26).
---
---