My Father's Sailboat
Blog / Produced by The High Calling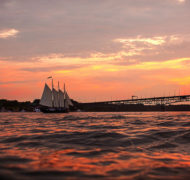 When I was a boy, my father had a dream to build a sixteen-foot sailboat in our basement and sail it on the Madawasaka River in Ontario, Canada.

There were six children in our family: my three brothers, my two sisters, and I. One of my brothers was so severely disabled that he was in bed for 32 years. He had no intellect and was blind. My parents never had money. All my clothes were from the thrift shop. My ice skates were from the thrift shop. The big treat in our house was ice cream once a month, and in 1963, my mother bought a used clothes dryer.

My father was never sick, never late for work at a rundown publishing company. My mother never complained.

As a young man, my father liked to sail in the wide lakes in Belgium. When he and my mother came to this country in 1948, they gave up their youth and plunged into earning a living and raising children.

I was ten years old when my father announced that he would build a sailboat. He found secondhand wood at the lumber yards. He worked extra hours to buy varnish and tools. For a year, he was in the basement at least three nights a week and always on weekends—measuring, cutting, sanding wood. He built a 12-foot mast and sewed his own sails. He showed me how to measure, hammer, sand, varnish. I liked watching my father use the hand plane to shave the wood board sides.

That first summer of the sailboat, he took me out on a wide Canadian lake that lapped the shore of a friend's home. My father was going to teach me how to sail.

During the first lesson he said to me, "Now, Chris, hold the rope. See how stiff it feels? The wind pushes against the sails, and you hold the sails tightly with this rope." The pressure pulled in my hands as if I and the sails and the boat were trapping the wind.

"If you are ever in trouble," my father said, "if the boat tips too much, just let go of the rope and the boat will right itself."

My father is 92 years old now and his sailboat is in the basement, broken, filled with leaks, and covered with dust. Soon I will have to let go of my father, but I know even in his death that the ship of my life will be okay, because he took me sailing, because he showed me how to work on a dream night after night, because, in the end, it is not the sails and the wind that matter the most, but showing a son how to handle the world with dreams of grace and love.

My father is grace and love. I think I will try and fix that old sailboat and show my children how to handle the wind and sails.