Your Work Matters: On the Work of Motherhood and Dreams
Blog / Produced by The High Calling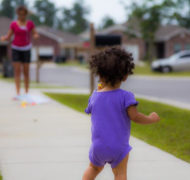 Lying across the "big bed," an open window invites a breeze to tickle my spine. Stretching out like this feels good for the kink living in my lower back, and I pour myself into the purr escaping my lips. Unplanned moments of self-care are welcomed and I melt into the lifetime of that heartbeat. I wanted to write, but when I sat down at the computer my littlest lovely called out. In the middle of working out his daytime drama in dreamland, he needs my touch, to sleep peacefully.
And that's cool. Until it ain't. My life feels interrupted right now. Parenthood is paralyzing. Every day it gets harder to keep up with what I consider my passion. I'm struggling with the chasm between what I have to do and what I want to do and the bridge connecting my dreams and reality is under construction. I can't find my way over, back or through.
Motherhood is an exhausting job and one I wanted most, but sometimes, I wonder if the work of parenting should trump everything else. And if there's a way to do it all. Refusing to take second place, even temporarily, parenthood photo bombs my life. There's very little space to carve out a cleft for writing or dancing or dreaming.
September will mark the beginning of my life as a homeschooling mama of many. I wonder if I can juggle it. Middle school math is a brain frazzler, and the effort to launch my lovelies secure in their faith while focusing on pursuing their dreams is a full-time job.
I dream of advancing the kingdom beyond my four walls. Is that possible for a full-time parent/ educator? And, if I can't, is that enough? My reach, my parenting platform seems insignificant when I watch friends trot off to places of higher learning, successful second careers outside the home or life-changing missionary journeys.
And then I'll have a day like today, motherhood-affirming days where everything clicks and my tank of mommy juice is full. My children laugh and play well together. At least one of them will say something profound or flat-out funny, letting me know: I'm raising good people. A few words will flash dance on paper before getting lost in my heart. I'll wake up feet firmly planted in the ground of my motherhood because I'm not trying to separate my calling and passion. I'll know I'm where I belong. The soil is rich and roots me. And there's time. For all of it.
I see the imprint of feet next to me and feel assured by women walking the same road. Their strength buoys my efforts. They may not offer to do my laundry but they always, always breathe grace. I feel the melody of my story mingle with theirs. The God-glimmer of his promise lies in the footprints I see ahead. He'll walk this thing with us. We're not alone. Our work matters. All of it.
___________________________________