Making Judgments: The Importance of Ethical Social Principles
Article / External content not produced by TOW Project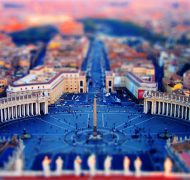 Dealing with the complex context of business described in our last section requires good judgment on the part of its leaders, judgments that are wise and rooted in reality and in truth. The ability to make reasoned judgments, however, must be nurtured in the moral and spiritual culture from which business leadesr come, namely their families, religion, educational institutions, and the larger communities to which they belong. For the Christian business leader, at the heart of that culture is the Gospel of Jesus Christ.
This Gospel is a message of love which is found not primarily in a theory or an ethic, but in a relationship with Christ.1 It is this relationship, this vocation to love, which, if we allow it to, animates and strengthens the life of every Christian. It has ethical and religious implications for all Christians and for business leaders in particular. These implications are identified in what the Church calls its social tradition, a living dialogue between faith, reason and action. This tradition has grown through a complementary relationship between authoritative teachers (Catholic social teachings), insightful scholars (Catholic social thought), and effective and principled practitioners (Catholic social practice). Like all traditions, it is constantly developed, purified and readjusted as Christians, including business leaders, seek discernment and excellence in their professional lives.
An important part of this tradition for business has been an articulation of ethical social principles at both foundational and practical levels, and a vision of a business as a community of persons. Together these provide guidance for true business excellence, since they are founded on who the human person is, and on what human flourishing can be in business, the wider community and the world.
FOUNDATIONAL ETHICAL PRINCIPLES FOR BUSINESS: HUMAN DIGNITY AND THE COMMON GOOD
Human dignity: At the very foundation of the Church's social tradition stands the conviction that each person, regardless of age, condition, or ability, is an image of God and so endowed with an irreducible dignity or value. Each person is an end in him or herself, never merely an instrument valued only for its utility—a who, not a what; a someone, not a something.2 This dignity is possessed simply by virtue of being human. It is never an achievement, nor a gift from any human authority; nor can it be lost, forfeited, or justly taken away. All human beings regardless of individual properties and circumstances enjoy this God-given dignity.
Thanks to this human dignity, each person has the right - indeed the obligation- to pursue his or her vocation and to strive for personal fulfilment in communion with others. In turn, this also entails that each of us has a duty to avoid actions that impede the flourishing of others and, as far as possible, a duty to promote that flourishing, for "we are all really responsible for all".3
More specirically, human beings demonstrate that they bear the image of the Creator in their capacities to reason and to choose freely as well as in their inclination to share their lives with others (their social nature). Human flourishing, therefore, always involves reasoning well, choosing freely in accord with reason and living in society. Indeed, it is only in community, that is, in communion with others, that a person can genuinely develop in ability, virtue, and holiness.
To be sure, because each eprson has a transcendent destiny to share forever in the life of God, earthly flourishing will never be complete, but this does not mean that people's earthly circumstances are unimportant. On the contrary, not only is earthly flourishing an important element of a good human life, but also the lack of material resources, as well as their overabundance, are often obstacles to, or distractions from, the pursuit of virtue and holiness.
Common good: The social nature of human beings, reflecting the community of the Trinity, points to another foundational principle, the importance of the common good. The Second Vatican Council defined the common good in the following way: "the sum total of social conditions which allow people, either as groups or as individuals, to reach their fulfilment more fully and more easily".4 Common goods are developed between human beings whenever they act purposefully together towards a shared goal. So building a friendship, a family or a business creates a common good shared between friends, family members and all the various people involved in a business. Common goods are possible because we are relational beings who do not only have individual goals, and who do not only grow individually. We also participate in truly shared and common projects that generate shared goods from which all participants benefit. The common good embraces and supports all the goods needed to allow all human beings to develop, individually and communally.
Businesses produce many of the important conditions that contribute to the common good of the larger society. Their products and services, the jobs they provide, and the economic and social surplus they make available to society, are foundational to the good life of a nation and of humanity as a whole. Countries that do not have enough business activity tend to lose their best trained people to other countries because they cannot see a future for themselves or their families in their present situations. Some societies do not produce enough collective and public goods to ensure human life in dignity. Businesses are therefore essential to the common good of every society and to the whole global order. They contribute best when their activities are allowed to be oriented toward, and to be fully respectful of, the dignity of people as ends in themselves who are intelligent, free and social.
Truly prosperous businesses and markets depend upon any number of contributions from the larger society. If we think of public goods such as the rule of law, property rights, free and open competition, and the provision of sound currencies and fiscal policies, and critical transportation and communication infrastructures, we realize that businesses simply cannot operate effectively outside the structures of a good society. Where these public goods and elements of the common good are absent or do not function properly, businesses suffer. And it is not only upon sound government that business depends. Even before the State, one needs a healthy moral-cultural environment in which to educate the young, to develop them in skill and virtue, and to prepare them for employment. Benefiting from the resources society makes available, business and commercial activities, in turn, conduct themselves so as to respect and sustain the common good.
Businesses also support the well-being of members of society through their other key functions. At the very least, a good business carefully avoids any actions that undermine the local or global common good. More positively, these businesses actively seek ways to serve genuine human needs within their competence and thus advance the common good. In some cases they actively promote more effective regulation on a regional, national, or international level. For example, some destructive business strategies, including corruption, exploitation of employees, or destruction of the natural environment, might thereby lower short-term costs for themselves, while leaving the much higher long-term costs to future generations of the local society. If such strategies are legal, they create competitive advantages for less morally conscious enterprises at the expense of more conscientious competitors, who act morally and thus incur the real, higher costs of such undertakings. Such a "race to the bottom" usually cannot be overcome by individual moral engagement alone; rather it calls for a better institutional framework for all participants in the market.