A Poem by T S Eliot on Economics and Church
Worship / Produced by partner of TOW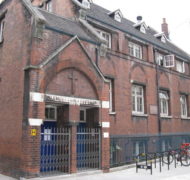 I journeyed to London to the timekept City
Where the river flows with foreign flotations.
There, I was told, we have too many churches,
And too few chop houses. There I was told:
Let the vicars retire. Men do not need the church
In the place where they work, but where they spend their Sundays.
In the City we need no bells:
Let them waken the suburbs.
I journeyed to the suburbs, and there I was told:
We toil for six days, on the seventh we must motor
To Hindhead or Maidenhead.
If the weather is foul we stay at home and read the papers.
In industrial districts there I was told
Of economic laws,
In the pleasant countryside, there it seemed
That the country now is only for picnics.
And the church does not seem to be wanted
In country or in suburb; and in the town
Only for important weddings…
The lot of man is ceaseless labour,
Or ceaseless idleness, which is still harder
Or irregular labour which is not pleasant.
I have trodden the wine press alone, and I know
That it is hard to be really useful, resigning
The things that men count for happiness, seeking
The good deeds that lead to obscurity, accepting
With equal face those that bring ignominy,
The applause of all or the love of none.
All men are ready to invest their dividends.
I say to you make perfect your will.
(T S Eliot 'Choruses from the Rock')
---
---