God Looked, and God Said, 'Let Us Make! Let Us Make!'
Worship / Produced by partner of TOW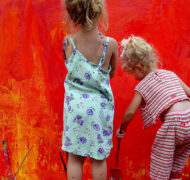 I live in a world where air, trees, plants, water and fire, creatures and lands link to each other for food, for life, for balance, for use. A world which was made for them all - and for me.
God lives a life of holiness, joy, balance and truth, of justice and peace where Spirit links One with the Others, in love.
God looked, and God said, 'Let us make! Let us make!' So God spun the whole universe from atom to galaxy in the web of his love. It was great, it was good, there was meaning for all. God even provided true meaning for me.
But the story went on: there was trouble for earth; for we humans did not get the drift of God's plan. The web became tattered and torn; lost were justice and peace.
So God moved in again and at fearful expense made a way to restore the great tangle we'd made. So I live in a world where the lines of the tangled web and the love of God co-exist for a time. Praise to God for the web, for the way he re-plans our chance to create again, to make Love.
(Daphne Fraser - adapted)
---
---