Chapter 2 - Corrupted Work: What Went Wrong?
Book / Produced by Individual TOW Project member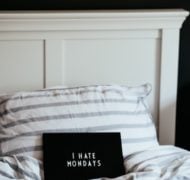 Corrupted computer files are a sad reality of digital technology. After working hard to craft a document, it can be devastating to open the file sometime later and discover that things are no longer as they were created. A virus has worked its way in and while we may still be able to decipher the basic shape and outline of the document, it's no longer what it was meant to be.
As we know, the story of Genesis is a bit like that. God's vision for his creation – and for humanity, was stunning and beautiful. The first humans must have been in their element.
And then…disaster!
The events of Genesis 3 have had a profound and lasting effect on work. It's no surprise that this damage shows up so clearly – and so painfully – in the area of work.
"Cursed is the ground because of you; through painful toil you will eat food from it all the days of your life. It will produce thorns and thistles for you, and you will eat the plants of the field. By the sweat of your brow you will eat your food until you return to the ground…" (Gen 3:17-19)
Hardly a pleasant prospect. No wonder so many of us avoid spending time in the garden!
However, the negative impact of the "Great Rebellion" had much wider implications than just growing food. All four fundamental relationships and their connection to our work, were significantly corrupted – our relationship with God, with ourselves, with others, and with the rest of creation.
Our Relationship with God
In the pre-Fall days, Adam and Eve were at one with God the Trinity. Not only did they enjoy absolute intimacy, but the tasks they were given were full of value and dignity. They worked as partners with God. Consequently, everything in life was sacred because everything had something of the touch of God on it. Nothing was "disconnected".
Since the Fall, we humans have struggled to discover the connection (and therefore significance) between the work we have been commissioned to do, and God. Because we have rebelled against God, the fulfillment and purpose of our work is seriously eroded. The problem is that we yearn to work in partnership with God, yet we insist on doing our own thing.
No wonder then that what happens on Sundays is frequently so "unreal" and even irrelevant to our lives during the rest of the week. Many of our friends notice the divide more and more as they grow older. Several of them have left the church altogether, because they couldn't see the point. For them religious activities, especially the "worship service" on Sunday, felt so totally out of touch with "real life".
Others of us have lost sight of God's role for us in his world. We may thrive in the "church atmosphere", but simply "put up" with our paid employment – treating it only as a way to make a buck and get on with "really living" in the company of our fellow believers.
Losing touch with the church God calls, or losing touch with the world God loves – which is worse?
Our relationship with ourselves
The Fall also directly affects our relationship with ourselves. In the early days of creation Adam and Eve were at peace with themselves, confident in the roles entrusted to them. There was a sense of dignity and fulfillment in being God's co-workers. The work they did was a part of God's blessing and enabled them to flourish.
However, now we constantly find ourselves battling to discover where we "fit". This is no longer automatic and it is hardly surprising that being out of step with God, we struggle to find our identity as workers. Tasks don't effortlessly fit our unique mix of motivations, giftings, and temperament. We often even have little understanding of ourselves – how we are made and what tasks are best for us.
How many times do we catch ourselves (or others) saying, "This job is just not me," or "I really like my work but it would be so much better if I didn't have to do this or that task"? We're rarely satisfied and fulfilled in what we do. Those who richly enjoy their work are very much the exception to the rule – and if they do they often end up consumed by their work. For most of us our work often seems futile or just plain hard work and toil. In a word: far from life giving.
As a result, some of us become compulsive workers, while others find every day a dreary treadmill. Workaholism or meaninglessness – life often seems to oscillate between these two extremes, as we desperately search to find the balance. Too often this confusion dictates the way we value ourselves. Rather than our identity being rooted in our relationships with God and others, it becomes bound up with our work. We'll look more extensively at these two tendencies in Chapter 9 (Work as Worship).
Our relationship with others
Honesty, transparency, care, and compassion were all marks of relationships before the Fall. Work built friendship and community. However, since then our working lives have become contaminated by all sorts of distractions – blame-shifting, power struggles, deceit, greed, dishonesty, selfishness, stress…
Relationships in our work have been deeply affected – particularly by the lack of trust between people. For it is trust and respect that is the oil in working relationships.
And this trust has been subverted further in recent decades through the economic rationalizing that has taken place to increase productivity. This has often resulted in the erosion of trust between employees and employers. Unfortunately, in this less secure environment employees frequently find themselves competing with each other to bolster their own job security. As these pressures increase, workplace relationships come under more stress. Trying to get along with a diverse group of people is challenge enough without these additional pressures.
This problem of relationships complicates the issue of work. Often our discontent is not with the job itself – but with the people we have to work alongside! Their personal struggles (and our own), and the inter-personal conflicts that inevitably follow, are yet another result of the Great Rebellion.
Our relationship with the rest of Creation
The Creation story speaks of a world where harmony between created beings was the norm. In this environment, humans were commissioned to care for and steward the animal life and natural resources. The Fall dramatically disturbed this equilibrium. Our greed and ignorance have led to all manner of ecological disasters – and the mistreatment of countless other living species.
The result is everywhere to be seen. Pollution haunts our communities. We waste limited resources. When we strip the land of trees for farming we find the result is erosion and floods. When we introduce exotic species we upset the balance of nature in a different climate. When we factory farm, over-fish, and generally treat the birds, sea life, and animals with whom we share the Earth, with such contempt, the damage is immense.
We were commanded to conserve and cultivate; too often we abuse and exploit.
Finding the balance
Much (though not all) of the damage created by sin is repairable – particularly if people have the will to co-operate with others and with God. Nevertheless, this does produce a built-in tension between frustration and satisfaction. There is the potential for work to be deeply satisfying, but also for it to be full of despair and futility. We'll look more extensively at this in Chapter 6.
We should be neither resigned to toilsome work … nor triumphalistic. It's only too easy to sideline ourselves from the rest of our fellow-workers, fooling ourselves that we don't have any problem. This form of super-spirituality can lead us to understate the ongoing struggle that we all go through as we try to discover meaning and significance in what we do.
Up Close and Personal
How has the Fall (or Great Rebellion) impacted on your work (think about more than just paid employment)? For example, how disconnected is your faith from your work? What about your Sunday/Monday connection?
If you could change one thing about your employment, what would it be?
How dependent are you on work for your sense of self-worth? If you were suddenly unemployed, how would you cope? What other areas of your present life would give you a feeling of self-esteem? Or are there other areas you should seriously cultivate, in order to balance your life?
How much stress do you feel is caused in your places of work by poor relationships? In what ways does this impact your capacity to do your tasks well?
What examples can you think of where greed, blame-shifting, deceit, dishonesty, selfishness, power struggles, lack of thoughtfulness for others … have been in evidence in your places of work?
What factors foster trust and respect between people in a workplace? Can you think of particular examples where there has been a breakdown of trust and respect between people? What difference did this make?
If you work in a relatively warm and friendly environment, what do you think are the key ingredients that make it that way? Do good relationships influence productivity? Or are there advantages in competition between workers?
Exercise
Refer back to the list you made at the end of the Introduction.
How well do you feel the tasks you are asked to do fit your own particular mix of personality/temperament/giftings?
What tasks do you revel in and which ones do you find unappealing and frustrating?
Are there any aspects of your work or work environment, where Creation is abused or exploited in some way?
---
---