A Gift From God – Wayne's Sabbath Year
Book / Produced by Individual TOW Project member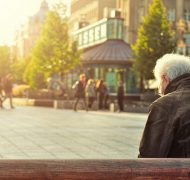 I'd had a difficult year. Despite my intense commitment to working with unchurched young people, I was feeling tired and drawn. Everything was an effort. And the challenges I was presented with just served to overwhelm me. At the end of the year I sat with the other leaders of the organization I served and discussed my predicament. Conversation was well meaning but didn't really touch me, until one of the leaders – a middle-aged man – spoke about the need for sabbaticals. I had heard the term before – mainly used by my old university lecturers, but it was a totally foreign concept in the environment of our organization. As he talked, the penny dropped – not that this would be the golden answer to my woes, but the timing was right to experience a break.
Six months later my wife Jill and I, along with our eight-month-old daughter, found ourselves travelling into the deep south, to a small isolated community. It was the beginning of a four-month adventure that not only restored my sagging energy levels, but more importantly helped set the compass of our lives for the next "season".
During those delightful few months we explored beautiful Fiordland, I worked ten hours a week for a small Baptist fellowship – preaching, leading, pastoring – we developed rich and deep friendships, and I studied (a correspondence paper from a North American college).
Being enveloped by a caring community and appreciated for what we could contribute to them, having freedom to be a family without the usual demands on our time, studying church history, regaining a sense of spontaneity and of awe – all these elements combined to refresh and renew me. They were some of the key ingredients that made those few months a watershed in my life.
Sabbaticals frequently result in directional changes. I have seen this time and time again with my friends. My one was just that for me. I came back convinced that my time in youth work was close to an end. I was still completely unaware of what lay ahead, but the direction of my compass was already changing. I discussed this feeling with my fellow-workers, and we agreed that I would serve another 15 months – long enough to pass the baton to others.
As it happened I ended up going overseas to study at the college I had previously done the correspondence paper from. A new organization was also in its infancy – and with my colleagues I was able to develop some fresh material and trial new ideas. It was an exciting time. The energy and confidence to explore and change was largely due to the invigoration of the sabbatical.
Sabbaticals can be for everyone
Often I hear from people, "Oh, it's okay for you. You can take time out. But I can't. My boss would never allow me to take an extended time and he certainly wouldn't pay me for it! You're lucky."
Of course there's truth in these sentiments. Many of us aren't in the position where we can just take a break from our employment. And yet it may not be as impossible as at first appears.
For some there may be an opportunity to make use of long service leave. Others may be able to apply for leave without pay. Others again may be able to accumulate holidays. Perhaps alternative low-stress employment for a period. A friend of mine took a year off from youth work and drove buses. "The most enjoyable year of my life," he tells me.
The critical thing is not so much the length of time – but the intention and purpose of the time.
Even if the ideal of a complete break is not physically possible, there is still the opportunity for opting out of an aspect of our work for a period of time, in order to rest and consider where we are headed. For example, this could involve taking a year-long sabbatical from church responsibilities or community activities. While this won't provide all the opportunities that a complete break from work does, if it's well structured it can certainly give space for plenty of rest, reflection and re-evaluation of priorities.
I realize that the idea of a sabbatical seems risky. It's not easy to abandon the security of our regular life and work commitments. Yet my experience, and that of several friends, is that it's a richly rewarding exercise. Forgoing it means that you'll miss out on a wonderfully refreshing opportunity.
There will often be a cost – lost wages or a lower income. One sabbaticaI I took resulted in my small business suffering, as I had no one to replace me. And there was some inevitable dislocation in the commitments and relationships I was involved in.
But at the end of the day, as with our God-inspired call to take time out each week, we know the cost is worth it – because it's an investment in our mental, physical, emotional and spiritual health, and a re-creation for the next phase of our work.
I'm not indispensable
My experience of a sabbatical has taught me one invaluable lesson. None of us, no matter what our gifts, positions of responsibility, or contribution to church and society, is indispensable. God is capable of achieving his purposes without us. I know this might come as a shock to some – but it's true!
We are valuable to God, not primarily because of what we can "do" for him, but because of who we are. Sure, he delights in using us, but none of us is indispensable.
This truth has the potential to set us free from our activism and our desperate longing to feel needed. It can cause us to allow our relationships with God, with others, and indeed with ourselves, to become genuinely renewed.
This, I'm convinced, is one of the great benefits of the weekly sabbath – and of sabbaticals.
---
---