Ambition
&

Your Work (Devotional)

Devotional / Produced by TOW Project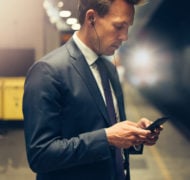 For some Christians, the word "ambition" has negative connotations. And yet, we are called to be people who "run in such a way as to get the prize" and "press on toward the goal to win the prize." (Philippians 3:14)—That sounds pretty ambitious. But toward what end? This 6-day plan will lead you towards a biblical view of ambition for the workplace.
You can find this devotional on the YouVersion Bible App (download the app here), or read the Ambition & Your Work devotional on Bible.com
Excerpt:
What is the prize that we seek?
The book of Philippians says the goal is "to know Christ."
Godly ambition aims to know and follow Christ, not just at church, but in the workplace as well. Since he is God over our whole lives, we can make it our goal to know him more and live for his glory wherever we are.
Godly ambition is also characterized by concern for the welfare of others. As we grow in knowing Jesus, we will develop a passion for God and his redemptive purposes for the world. Like Jesus, we are called to look not only to our own interests, but to the interests of others...
Read Ambition & Your Work on Bible.com
---
---