Intro To The Lectio Divina (Devotional)
Devotional / Produced by TOW Project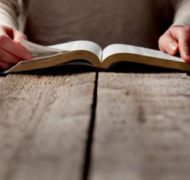 Lectio Divina, or "divine reading" is a traditional Christian practice that helps you dive deeply into a passage of scripture and see how God speaks to you.
You can find this devotional on the YouVersion Bible App (download the app here), or get the Intro To The Lectio Divina plan on Bible.com
Excerpt:
The 3rd century Church Father Origen of Alexandria was the first to write about the practice of the Lectio Divina. Origen believed that God was incarnate in scripture and that people could be touched powerfully by God through slow purposeful reading of the Bible.
"When you devote yourself to the divine reading," Origen wrote, "seek the meaning of divine words which is hidden from most people."
As you read a single passage over and over again, new meanings jump out at you. You can encounter God through this process of discovery.
Practice the Lectio Divina:
Read (Lectio). Read the passage slowly. What words or phrases jump out at you?
In the beginning was the Word, and the Word was with God, and the Word was God. (John 1:1)
Reflect (Meditatio). Read the passage again. What emotions does it stir up? Is there anything God is saying to you personally through the passage?
In the beginning was the Word, and the Word was with God, and the Word was God. (John 1:1)
Respond (Oratio). Read the passage again. Is there a response or action step God is inviting you to take?
In the beginning was the Word, and the Word was with God, and the Word was God. (John 1:1)
Rest (Contemplatio). Read the passage one last time. Allow the divine reading to sink in.​
In the beginning was the Word, and the Word was with God, and the Word was God. (John 1:1)