Bridging the Sacred-Secular Divide (Nehemiah 1:1-1:10)
Bible Commentary / Produced by TOW Project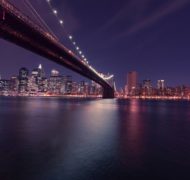 The connection between the temple and the wall is significant for the theology of work. The temple might seem to be a religious institution, while the walls are a secular one. But God led Nehemiah to work on the walls, no less than he led Ezra to work on the temple. Both the sacred and the secular were necessary to fulfill God's plan to restore the nation of Israel. If the walls were unfinished, the temple was unfinished too. The work was of a single piece. The reason for this is easy to understand. Without a wall, no city in the ancient Near East was safe from bandits, gangs and wild animals, even though the empire might be at peace. The more economically and culturally developed a city was, the greater the value of things in the city, and the greater the need for the wall. The temple, with its rich decorations, would have been particularly at risk. Practically speaking, no wall means no city, and no city means no temple.
Andy Mills illustrates the importance of the roles pastors and business people play.
Conversely, the city and its wall depend on the temple as the source of God's provision for law, government, security and prosperity. Even on strictly military terms, the temple and the wall are mutually dependent. The wall is an integral part of the city's protection, yet so is the temple wherein dwells the Lord (Ezra 1:3) who brings to nothing the violent plans of the city's enemies (Neh. 4:15). Likewise with government and justice. The gates of the wall are where lawsuits are tried (Deuteronomy 21:19, Isaiah 29:21), while at the same time the Lord from his temple "executes justice for the orphan and the widow" (Deut. 10:18). No temple means no presence of God, and no presence of God means no military strength, no justice, no civilization and no need for walls. The temple and the walls are united in a society founded on God's "covenant and steadfast love" (Neh. 1:5). This at least is the ideal towards which Nehemiah is fasting, praying and working.
---
---