God Allows Satan to Destroy Job's Health (Job 2:1-11)
Bible Commentary / Produced by TOW Project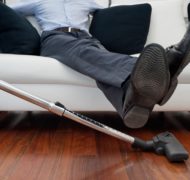 Job is able to endure overwhelming loss without compromising his "integrity" or blamelessness[1](Job 2:3). But Satan does not give up. Perhaps Job merely hasn't faced enough pain and suffering. Satan now accuses him of serving God only because he still has his health (Job 2:4). So God allows the accuser to afflict Job with every matter of loathsome sores "from the sole of his foot to the crown of his head" (Job 2:7). This is especially galling to Job's wife, and she asks him, "Do you still persist in your integrity? Curse God, and die" (Job 2:9). She accepts that Job is blameless in God's eyes, but unlike him, doesn't see the point in being blameless if it doesn't bring God's blessings. Job responds with one of the classic verses of scripture, "Shall we receive the good from the hand of God, and not receive the bad?" (Job 2:10).
Once again we find Job ascribing every circumstance of life to God. Meanwhile, Job is unaware of the heavenly activity that is behind his situation. He cannot see inner workings of heaven, and it is only the integrity of his faith that prevents him from cursing God. How about us? Do we recognize that like Job, we do not understand the mysteries of heaven that shape our prosperity and adversity? Do we prepare for adversity by practicing faithfulness and thanksgiving during good times? Job's unwavering habit of prayer and sacrifice may have seemed quaint or even obsessive when we encountered it in Job 1:5. But now we can see that a lifetime of faithful practices forged his capacity to remain faithful in extreme circumstances. Faith in God may come in an instant. Integrity is formed over a lifetime.
Job's adversity arises in his workplace, with the loss of his means of income. It spreads to his family and eventually attacks his health. This pattern is familiar to us. We can easily become so self-identified with our work that workplace setbacks spread to our family and personal lives. Workplace failures threaten our self-identity and even our integrity. This, plus the practical strain of losing income and security, may severely disrupt family relationships. Though they seldom cause violent death, work-related stresses may lead to a permanent destruction of families. Eventually we may experience debilitating physical and mental health issues. We may be unable to find peace, rest or even a good night's sleep (Job 3:26).In the midst of this, Job maintains his integrity. It might be tempting to draw a moral such as, "Don't get so wrapped up in your work that its problems affect your family or your health." But that wouldn't do justice to the depth of Job's story. Job problems did affect his family and his health, in addition to his work. Job's wisdom is not about how to minimize adversity by maintaining wise boundaries, but about what it looks like to maintain faithfulness through the worst circumstances of life.
---
---