Job's Complaints Take on Special Significance for Our Work (Job 24)
Bible Commentary / Produced by TOW Project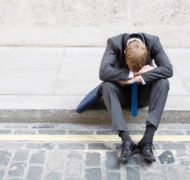 Like Job's, our sufferings often begin with difficulties at work. But seldom are God's people equipped — or even willing —to help each other handle workplace failures and losses. We might go to a pastor or a Christian friend for help in a family or health issue, and they might be truly helpful. But would we ask them for help with workplace problems? If we did, how much help would we be likely to get?
For example, imagine you are treated unfairly by your boss, perhaps blamed for her mistake or humiliated during a legitimate disagreement. It would not be appropriate to reveal your feelings to customers, suppliers, students, patients or others you serve in your work. It would be harmful to complain to your co-workers, even to your friends among them. If the Christian community were equipped to help you deal with the situation, that could be a unique blessing. But not every church is fully equipped to help people handle work-related difficulties. Is this an area where churches need to improve?
We have seen that Job is not afraid to take his complaints — including work-related complaints — to God. The series of complaints in Job 24:1-12 and 22-25 particularly concerns work. Job complains that God lets evil people get away with injustice in work and economic activity. People appropriate public resources for personal gain, and they steal the private property of others (Job 24:2). They exploit the weak and powerless to gain outsized profit for themselves (Job 24:3). The arrogant get their way at work, while the honest and humble are ground into the dirt (Job 24:4). The poorest have no opportunity to earn a living and are reduced to scavenging and even stealing from the rich to feed their families (Job 24:5-8). Others work hard, but do not earn enough to enjoy the fruits of their labor. "Though hungry, they carry the sheaves; between their terraces they press out oil; they tread the wine presses, but suffer thirst" (Job 24:10–11).
Job knows that all blessing comes from God, and all adversity is allowed — if not caused — by God. Therefore, we can feel the sharp sting in Job's complaint, "From the city the dying groan, and the throat of the wounded cries for help; yet God pays no attention to their prayer" (Job 24:12). Job's friends accuse him of forsaking God, but the evidence is that the righteous are forsaken by God. Meanwhile, the wicked seem to lead a charmed life. "God prolongs the life of the mighty by his power; they rise up when they despair of life. He gives them security, and they are supported; his eyes are upon their ways" (Job 24:22–23). Job believes the wicked will ultimately be cut down. "They are exalted a little while, and then are gone; they wither and fade like the mallow; they are cut off like the heads of grain" (Job 24:24). But why does God let the wicked prosper at all?
There is no answer in the book of Job, and there is no answer known to humanity. Economic adversity is an all-too-real pain that many Christians face for years or even a lifetime. We may have to abandon our education when we are young due to financial hardship, and it could prevent us from ever reaching our potential in the workplace. We may be exploited by others or scapegoated to the ruin of our careers. We may be born, struggle to survive, and die under the thumb of a corrupt government that keeps its people in poverty and oppression. These are merely a few work-related examples. In a million other ways, we may suffer serious, grievous, unfair harm that we can never even understand — much less remedy — in this life. By God's grace, we hope never to become complacent in the face of injustice and suffering. Yet there are times when we cannot make things right, at least not right away. In those situations, we have only three choices: make up a plausible, but false explanation about how God allowed it to happen, as Job's friends do; abandon God; or remain faithful to God without receiving an answer.
---
---