Theology and Themes (Job)
Bible Commentary / Produced by TOW Project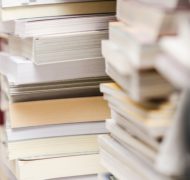 Most familiar to Bible readers as the righteous man who suffered unjustly, Job exemplifies the person who questions why good people suffer. Job's faith in God is put to the extreme test, and the story intimates that Job's commitment to God wanes. As we will see, Job's woes begin at work, and the book gives us valuable insights into how a follower of God may faithfully function within the ups and downs of work life.
---
---
Copyright
Contributors: Timothy Johnson
Adopted by the Theology of Work Project Board April 28, 2011. Rev. June 28, 2011.. Image by Used under license from Veer . Used by permission.
Author: Theology of Work Project
Theology of Work Project Online Materials by Theology of Work Project, Inc. is licensed under a Creative Commons Attribution-NonCommercial 4.0 International License. Based on a work at www.theologyofwork.org
You are free to share (to copy, distribute and transmit the work), and remix (to adapt the work) for non-commercial use only, under the condition that you must attribute the work to the Theology of Work Project, Inc., but not in any way that suggests that it endorses you or your use of the work.
© 2011 by the Theology of Work Project, Inc.
Unless otherwise noted, the Scripture quotations contained herein are from the New Revised Standard Version Bible, Copyright © 1989, Division of Christian Education of the National Council of the Churches of Christ in the U.S.A., and are used by permission. All rights reserved.