A Diligent Worker Can Smile at the Future (Proverbs)
Bible Commentary / Produced by TOW Project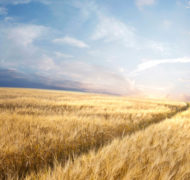 The Valiant Woman's diligence gives her an eagerness for the future. "Strength and dignity are her clothing, and she laughs at the time to come" (Prov. 31:25). While the proverbs are not promises of personal prosperity, in general, our diligence does lead to a better future.
Those who till their land will have plenty of food, but those who follow worthless pursuits have no sense. (Prov. 12:11)

Anyone who tills the land will have plenty of bread, but one who follows worthless pursuits will have plenty of poverty. (Prov. 28:19)

The hand of the diligent will rule, while the lazy will be put to forced labor. (Prov. 12:24)
Diligence is not a guarantee against future sorrow or even disaster (see Job and Work at www.theologyofwork.org). Yet the wise person trusts God for the future, and the diligent can rest in the confidence that they have done what God asks of them for themselves, their households and their communities.
For an application of these passages in Proverbs about diligence, see "Require Every Employee to be Accountable" in Texas Nameplate Study Guide by clicking here.
---
---