God's Punishing Hand at Work (Nahum 1:1-12; Habakkuk 3:1-19; Zephaniah 1:1-13)
Bible Commentary / Produced by TOW Project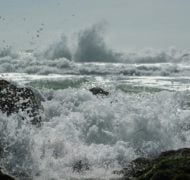 Nahum's chief contribution is to make it clear that the political and economic disaster is God's punishment or disciplining of Israel. "I have afflicted you," God declares (Nahum 1:12). Habakkuk and Zephaniah declare that an essential part of God's punishment is that the people's ability to make an adequate living is diminished.
The fig tree does not blossom, and no fruit is on the vines; though the produce of the olive fails and the fields yield no food; though the flock is cut off from the fold and there is no herd in the stalls. (Habakkuk 3:17)
All the traders have perished; all who weigh out silver are cut off. (Zephaniah 1:11)
This is seen not only in economic woes, but also in environmental problems (see below under Haggai: Work, Worship and the Environment).
Are contemporary political, economic, and natural disasters punishments from God? There is no shortage of people willing to declare that particular disasters are signs of God's wrath. The 2011 earthquake and tsunami in Japan were attributed to divine punishment by both the Governor of Tokyo[1]and the host of an MSNBC television news show. But unless we have joined the ranks of the Twelve or the other prophets of Israel, we should be very reluctant to declare God's wrath in the events of the world. Did God himself reveal the reasons for the tsunami to these commentators, or did they draw conclusions on their own? Did he reveal his intent to a substantial number of people, well in advance, over many years, as he did with the prophets of Israel, or did it come to one or two people the day after? Were the modern-day declarers of God's punishment forged as prophets by years of suffering alongside those afflicted, as Jeremiah, the Twelve and the other prophets of ancient Israel?
---
---