Course Module in Worship and Liturgy - Services that Focus on Work
Seminary Curriculum / Produced by TOW Project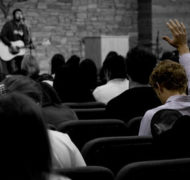 Worship choices and the liturgy in the Sunday service can have a huge impact on Christians throughout the work week. This page shows how seminary professors can teach their students to make the biggest impact on Sunday.
The Equipping Church Overview paper describes a great variety of ways in which churches of different sizes and from different denominational backgrounds have sought to integrate faith, work and economic concerns into their worship and practice. It includes a discussion of theology, ecclesiology, pastoral principles and examples of specific practices. One section is devoted to discussing elements of corporate worship and liturgy.
The Pastors Page on the TOW Website also includes a variety of preaching, worship and liturgy resources, plus creative ideas and examples from other churches. These will be very useful resources for the second part of the assignment below.
ASSIGNMENT

This assignment includes parts A and B.

A. What elements of the equipping church, as described in The Equipping Church Overview paper, have special relevance for your church?

B. Prepare an order of worship that includes at least one biblical text, outline of the sermon theme, songs, prayers, and any other worship elements appropriate to your tradition in a way that integrates faith, work and economics themes. (See Worship Resources Page for ideas.)