Luke (Bible Study Book)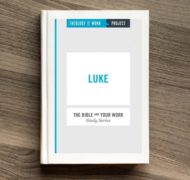 Luke's Gospel is the story of how Christ the King established his Kingdom during his time on earth. But what does that mean for his followers in today's workplace? This eight-week study on the book of Luke explores a variety of work-related topics of God's Kingdom from the Gospel of Luke, ranging from wealth, power, and conflict, to leadership, ethics, and provision.
Each chapter includes three 30-minute practical lessons, complete with Scripture references and thought-provoking questions, for individuals or groups at work during their lunch hour. Whether following Christ on the dusty roads around Jerusalem, or hearing his sermons and challenges to local religious authorities, this is an opportunity to bring the reality of God's Kingdom into the contemporary workplace.